Kanda Poha, also known as Kande Pohe in Maharashtra is a breakfast dish that originated from the western states of India, but is now fairly popular across the country. And this Kanda Poha recipe is my version of the classic comfort food.
I say version because there are many many ways Kanda poha can be made, to suit different palates and preferences (I have listed a few variations of the classic poha recipe below).
But no matter which version you go with, one thing stays the same – this is a super easy and quick recipe to make for breakfast, especially for something this delicious.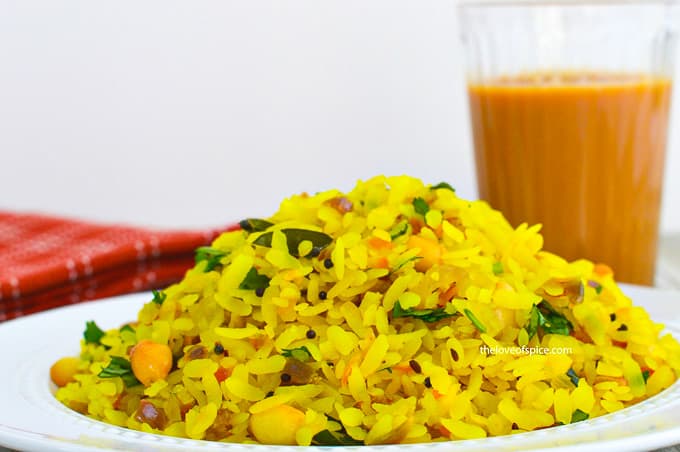 And I don't know about you, but I am not an elaborate breakfast person. No wait, that's not completely true, let me rephrase that – I am very much an elaborate breakfast eating person, but just not an elaborate breakfast making one, if you know what I mean.
If I have to make breakfast, especially on weekdays, it has to be quick, simple and easy. Plus, poha gets bonus points for being super delicious, total comfort food.
In-fact I love this dish so much, that a plate of Kanda poha, along with a cup of piping hot adrak chai is what my breakfast dreams are made of.
Oh and also, I know I keep saying it's a breakfast recipe, but Kanda Poha makes for a great evening snack too. Especially if you are expecting guests, this is super quick, easy, and yummy to whip up.
I'll walk you through how to make Kanda Poha at home, sharing the poha recipe with step by step with pictures. And I hope you try this recipe, and enjoy it as much as I do. 🙂
Making Kanda Poha
1. Before you do anything else, wash the poha a few times in running water until it softens, and then strain out all the water. Do not soak the poha in water or else it might turn soggy and mushy.
2. Set the poha aside for about 10-15 minutes, in a covered bowl, so that it doesn't dry out.
3. In a pan, heat up a little oil, and roast the peanuts for 2-3 minutes. Once the peanuts start developing a good color, get them out of the oil, and set aside.
You can choose to keep the peanuts in, and continue with the recipe. I just prefer to take them out, and add them back in at the very end for garnish.
4. Then in the same oil, first add cumin seeds, and then the mustard seeds. Once the mustard seeds start crackling, add the curry leaves, slit green chilli & hing powder.
I usually add hing last, because I don't want the hing powder to burn in the oil.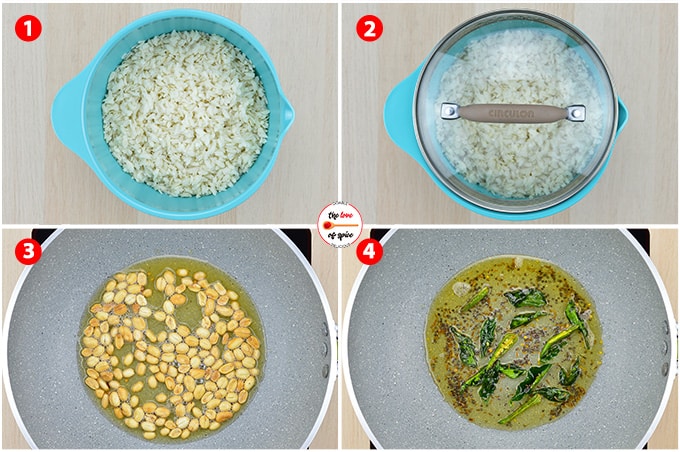 5. Now add the chopped onions, and a little bit of salt along with the onions to get them to cook faster. Mix well, and saute till the onions develop a golden brown color.
6. Once the onions are done, add in a little salt, haldi powder, and the poha that was set aside earlier. Mix everything well.
7. This is also the best time to add the peanuts, coriander leaves, and lemon juice (if you choose to add it that is). Then lower the flame and cover & cook for 3-5 minutes, for the poha to absorb the flavorings.
8. You can add the peanuts and the coriander at the very end too. Especially if someone doesn't prefer peanuts and / or coriander, you can add both these things after serving them the poha. As the poha will taste great even without these garnishes.
But I highly recommend adding them as coriander leaves infuses a fresh flavor & peanuts are great for adding crunchy texture.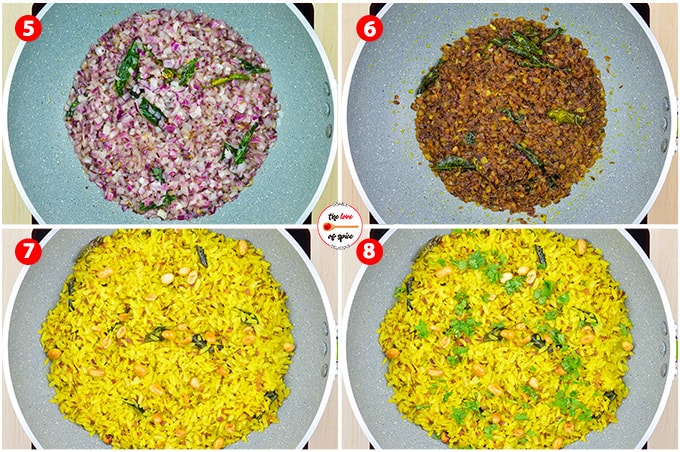 Serve Poha hot. Best if paired with sev and tea / coffee.
Variations of Kanda Poha Recipe
Like I mentioned earlier, there are many ways to make good delicious poha, with many different flavorings, to suit your taste buds. I have listed some of the variations of the recipe below, that you may want to try and use/ add while making poha.
Kanda Poha with Peanuts
This is essentially the version I have gone with, for this recipe. Kanda poha with lots of onions and crunchy peanuts.
One variation to this same recipe is to use grated coconut for garnish. In addition to or in place of coriander leaves / peanuts.
Kanda Batata Poha
Potatoes are very commonly added to kanda poha. Some prefer to add the raw potatoes and cook them while making poha. Others add the pre-boiled potatoes. You can choose to use either raw or boiled potatoes.
If you are adding raw potatoes, ensure to wash, peel & dice them finely, so that they are easier to cook faster. It's best to add the potatoes right after the tadka, and before you add the onions. And you may need to cover and cook the potatoes for a few minutes to ensure they are cooked well.
If you are using pre-boiled potatoes, cut them into small cubes & add them after you are done frying the onions, right along with the poha.
Adding Vegetables to Poha
If you love vegetables in your poha, you can easily add them in. Just like potatoes, just ensure to chop/dice them finely so that they cook easily and all the way through.
And add them in right after the tadka to give them a chance to cook well. It's best to cover & cook the veggies for a few minutes to help them cook faster.
Tips for Making Good Poha
1. Above all else, it's important to get the texture of poha right. It needs to be soft & fluffy, and not mushy or dried out / hard.
To avoid poha getting all mushy – ensure to not soak it in water, and instead only rinse it and immediately strain out all the water. Then set the poha aside in a covered bowl so that it doesn't dry out.
2. If you add potatoes or veggies to your poha, then ensure to first finely dice / chop them. This way they will cook faster, and all the way through. Always remember to adjust proportionate salt when you add potatoes or veggies to poha.
3. Though this is not absolutely necessary – but towards the end, once you have added the poha in the pan & mixed it with the seasonings, it's best to lower the flame & cover and cook for a few minutes. This helps all the flavors to mix well.
4. I highly recommend adding something crunchy to the poha. And of-course roasted peanuts are the popular choice.
But if you are allergic or simply do not like peanuts, then you can serve with something like sev instead.
This recipe has been updated from the recipe archives, first published in 2019.
Print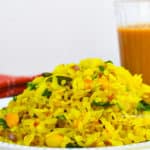 Kanda Poha Recipe | How to Make Maharashtrian Kande Pohe
---
Author:

Prep Time:

10 mins

Cook Time:

10 mins

Total Time:

20 minutes

Yield: Serves

2

–

3

1

x
Category:

Breakfast

Method:

Stovetop

Cuisine:

Indian
Description
Recipe for Kanda Poha – that is easy enough to make for breakfast, and quick enough to whip up for evening snacks for unexpected guests.
---
Ingredients
1.5 cup

s jada (thick) poha/ flattened rice

2 tablespoon

s oil

1/4 cup

peanuts 

1/4 teaspoon

jeera / cumin seeds

3/4 teaspoon

rai / mustard seeds

5

cadipatta / curry leaves

1

green chilli (split in two)

1/3 teaspoon

hing / asafoetida

3/4 cup

chopped onion

3/4 teaspoon

salt, divided

1/4 teaspoon

haldi / turmeric powder

1 tablespoon

lemon juice 

2

–

3

tablespoons coriander leaves, chopped
---
Instructions
Wash 1.5 cups of Jada Poha a few times in running water until it softens. Then strain out all the water, and set the Poha aside in a covered bowl (so that it doesn't dry out).
In a pan, heat up 2 tbsp oil, and roast 1/4 cup peanuts for a couple of minutes, till they get well roasted. Then take the peanuts out of the oil, and set them aside.
Now, in the same heated oil, add 1/4 tsp cumin seeds and 3/4 tsp mustard seeds. Wait till the mustard seeds start popping, then add the 5 curry leaves, 1 slit green chilli and 1/3 tsp hing. Mix and let it all roast for a minute or two on medium heat.
Next add in 3/4 cup chopped onions, and 1/2 tsp salt. Mix well, and saute till the onions develop a golden brown color.
Once the onions are done, add in 1/4 tsp salt, 1/4 tsp haldi powder, and also the poha that was set aside earlier. Mix everything well.
At this point you can add the lemon juice (though it is optional) & chopped coriander leaves. 
Give everything a quick mix, and cover & cook on low heat for 3-5 mins. Then add in the roasted peanuts & serve hot.
Notes
To ensure to get that soft and fluffy poha texture, and poha that is neither too mushy nor too dry, ensure to only run the poha through the water and not soak it in (this will ensure it doesn't turn into mush), and strain all the water & keep it covered for 15-20 mins, before we put it in the pan (this will ensure it doesn't dry out).
I prefer to remove the peanuts before I add the tadka & fry onions, but you can choose to keep the peanuts in, and continue with the recipe as is.
You can add a pinch more salt to this recipe, depending on whether you added the lemon or not, because the sourness of the lemon will cut the salt.
Like I mentioned at the very beginning of this post, there are many different ways poha can be made. You can choose to add potatoes, a few veggies, and even grated coconut, as per your taste.
I've done my very best to share the exact measurements, and outline every step, but if something is not clear to you, or you have questions about quantities or alternatives, or anything at all, feel free to ask in the comments. I promise to reply to every single query.
If you like the recipe, please do take the time to rate the recipe below. I would truly appreciate it. 🙂  

You can also follow The Love of Spice on Facebook to stay connected with new recipes out every week. I look forward to seeing you there! 🙂
PIN RECIPE FOR LATER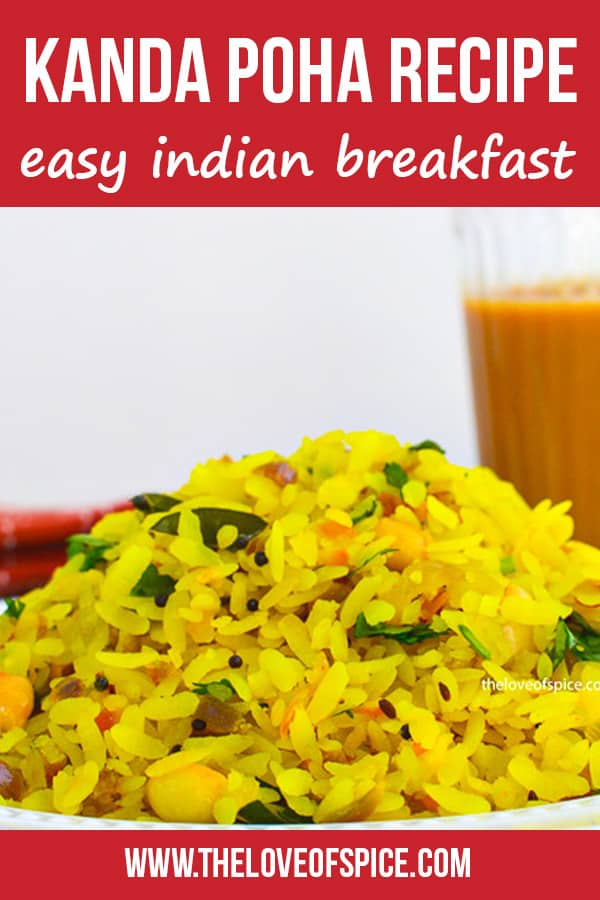 Kanda Poha Recipe Maharashtrian Style