If you are looking for an easy ginger garlic paste recipe, so that you don't have to buy the store-bought one that has added preservatives, you have landed at the right place.
In this post, I'll share with you how to make homemade ginger garlic paste in 15-20 minutes and store it properly so that it will last you an entire month. Along with tips on how to prevent ginger garlic paste from turning green (which is a common problem faced by many trying to make this at home).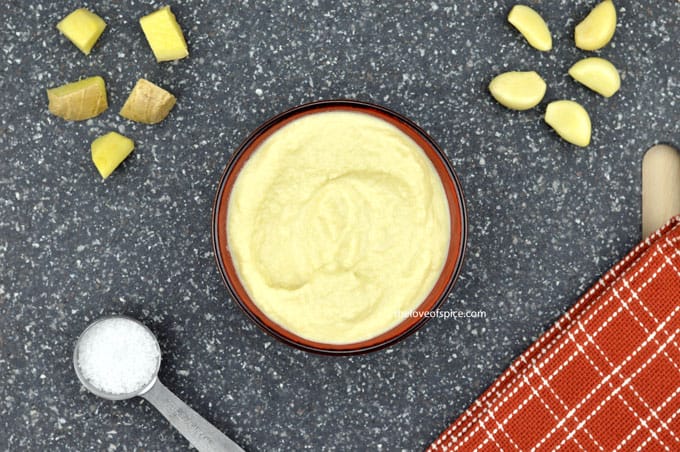 If you have made ginger garlic paste at home before and are only interested in the recipe and the ratio of the ingredients, do skip ahead to the recipe card, while I share a few pictures of the recipe, and answer some common questions regarding this recipe below.
How to Make Ginger Garlic Paste at Home
1. Wash & dry the ginger & garlic, and then cut off the tips of the garlic cloves and cut ginger into about garlic clove sized cubes.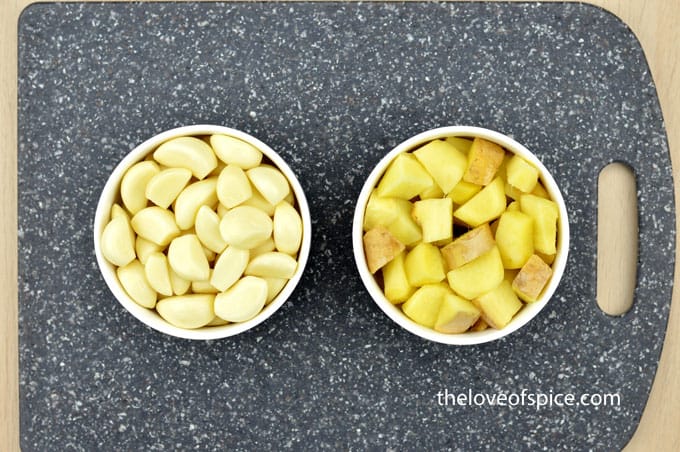 2. To make the ginger garlic paste, in a mixer add the ginger and the garlic.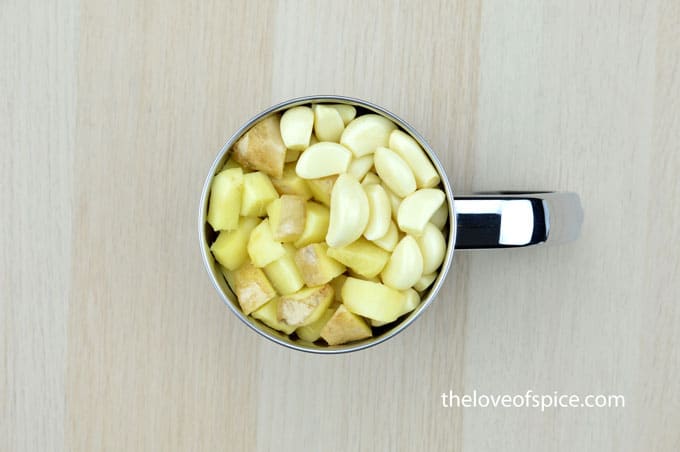 3. Then add in the oil that is heated & cooled to room temperature, and salt.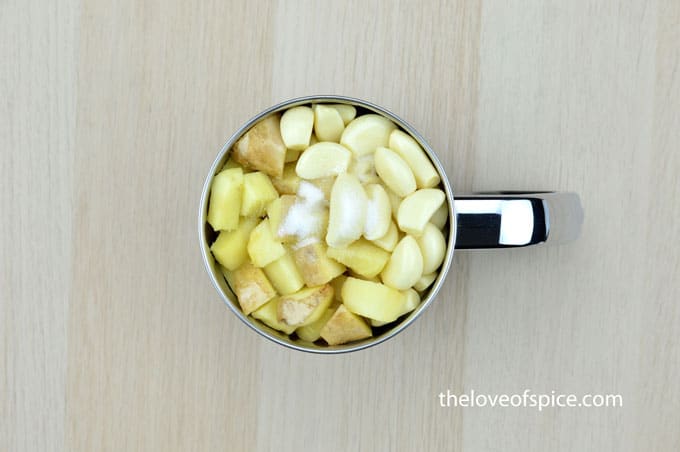 4. Blend well to form a smooth paste. And then store the ginger garlic paste in the fridge in an air tight glass container.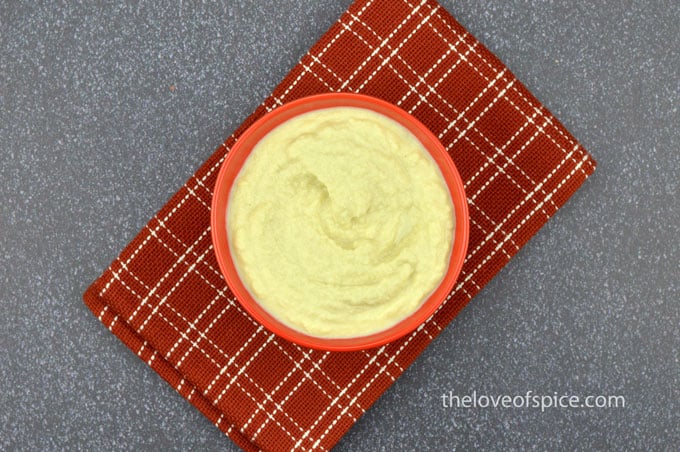 Ratio of Ginger & Garlic
As you will see in the recipe below, I use 1:1, but that is because I use the regular variety of ginger. If you want to use organic ginger, I'd recommend a 1:2 ginger garlic ratio, as organic ginger is more potent.
Storage and Shelf Life
If you follow all the steps outlined in the recipe below, a bottle of this ginger garlic paste will last you an entire month.
How to Prevent Ginger Garlic Paste from turning Green
This is a challenge I faced regularly when I first started making ginger garlic paste. But over time I have fixed one thing at a time to ensure my paste doesn't turn green. And even though I have shared it in the recipe below, I'll highlight it here too, as the steps and the details are critical to preserving ginger garlic paste.
But before that I want to mention that just because your ginger garlic paste turns green, it doesn't mean that the paste is bad or unfit to consume. Unless its smells odd or is moldy. Just the color is not the problem.
That being said, to ensure the ginger garlic paste preserves well, while making ensure that –
Chopped ginger & garlic pieces are totally dry
Use oil and not water to make paste
Add salt to preserve the paste
Store the paste in the fridge in an air-tight glass container
Ginger Garlic Paste Substitute Measurement
Even though I try my best to always have homemade ginger garlic paste available, there are times I run out, and I have to use the ginger and garlic instead. In which case, this is how I substitute –

1 tbsp of ginger garlic paste = 1 inch thick ginger + 2 cloves of garlic
Recipes that I've Used This Ginger Garlic Paste in:
This recipe has been updated from the recipe archives, first published in 2019.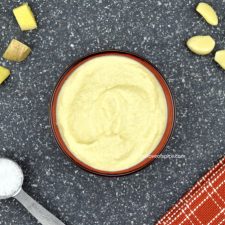 Ginger Garlic Paste: Recipe, Ratio and Storage Tips
Ginger Garlic Paste is one of the essential condiments of Indian cooking, and is used to flavour several vegetarian as well as non-vegetarian Indian dishes.
Print
Pin
Rate
Ingredients
2

cup

ginger

chopped

2

cup

garlic cloves

1/2

cup

oil

2

tsp

salt
Instructions
Wash ginger and garlic pieces and dry them well.

Cut off the tips of the garlic cloves and cut ginger into about garlic clove sized cubes. Measure out equal quantity of garlic cloves and ginger cubes.

Lightly heat and then cool the cooking oil, till it is warm.

Once the oil is warm - in a mixer - blend the ginger & garlic chunks together with the oil and salt, till it forms into a smooth paste.

Store the ginger garlic paste in the fridge in an airtight glass container.
Notes
After you wash the ginger and garlic, try to get the pieces as dry as possible. This is important for the ginger garlic paste to preserve well.
I cut the ginger cubes to approximately the size of the garlic cloves, but the ginger cubes are usually bigger. Which is okay as it does not need to be exactly, but only approximately the same size.
I prefer to keep the ginger peel on for additional flavor, but you can choose to use peeled ginger.
I use canola oil, but I have used vegetable oil too in the past. Either or will work.
It is very important to store the ginger garlic paste in an air tight glass container in the fridge. Because it will not preserve as well at room temperature or in a plastic container.
I've done my very best to share the exact measurements, and outline every step, but if something is not clear to you, or you have questions about quantities or alternatives, or anything at all, feel free to ask in the comments. I promise to reply to every single query.
If you like the recipe, please do take the time to rate the recipe below. I would truly appreciate it. 🙂  

You can also follow The Love of Spice on Facebook to stay connected with new recipes out every week. I look forward to seeing you there! 🙂
PIN RECIPE FOR LATER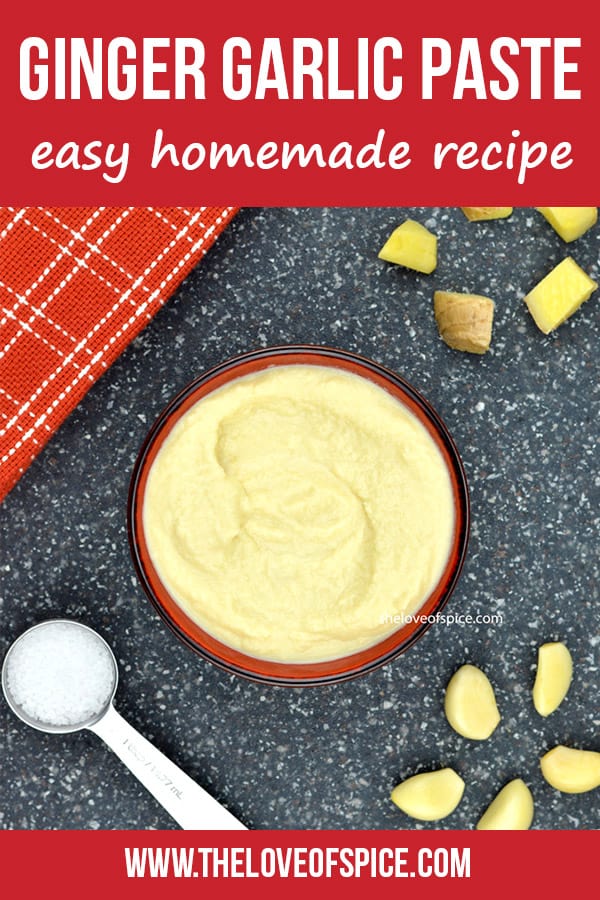 Homemade Ginger Garlic Paste Recipe, Ratio and Storage Tips