Mealthy CrispLid is the new gadget in the market that lets you turn any electric pressure cooker into an air fryer! In this post, I have shared everything you need to know about this CrispLid – from what's in the box to how it works to how it compares with other standalone air fryers!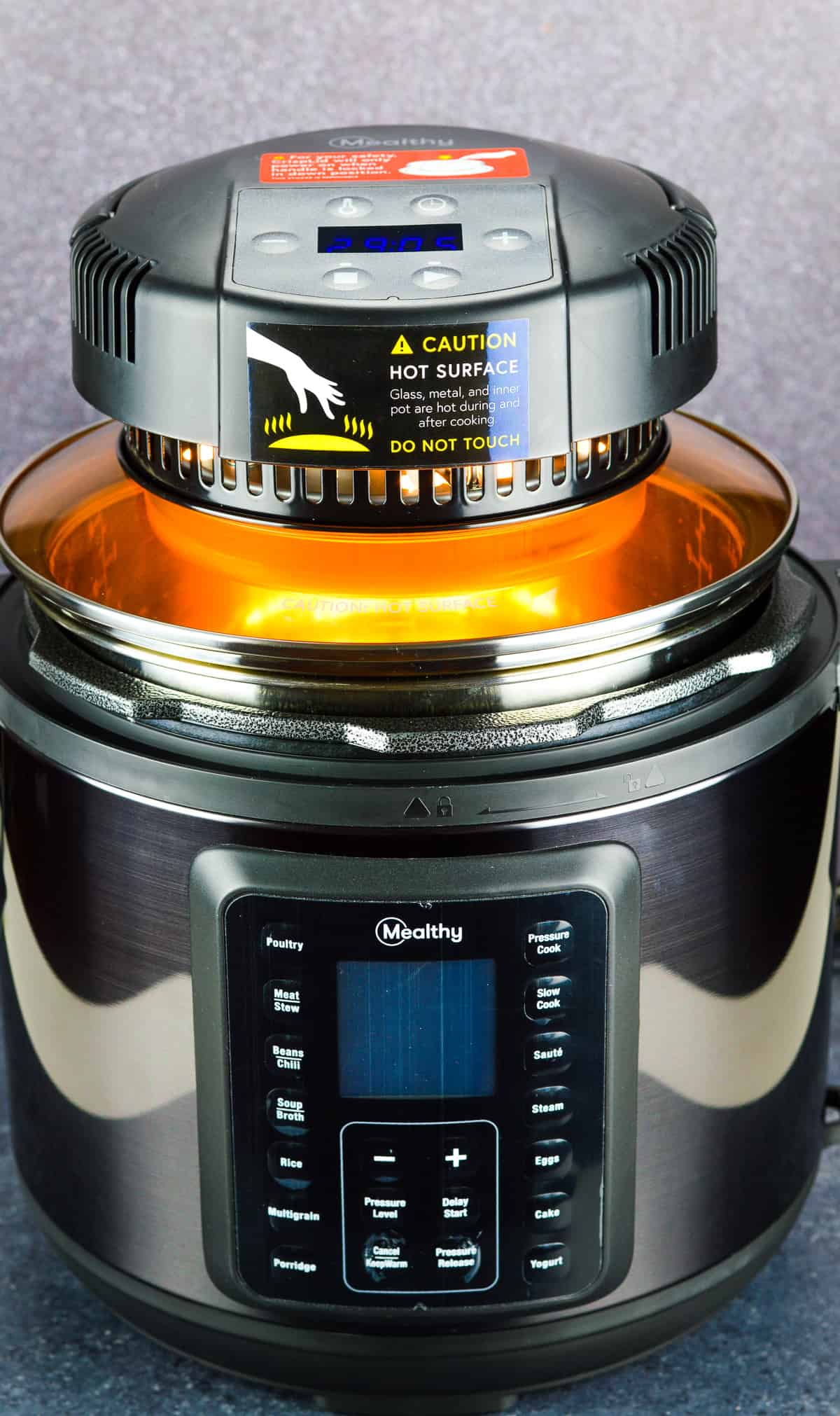 Disclaimer: I received a Mealthy CrispLid from the company, in exchange for an honest review. The opinions, as always, are completely mine.
What is the Mealthy CrispLid?
Mealthy CrispLid is an Air Fryer Lid that let's you convert any electric pressure cooker into an air fryer. Which means you can broil, crisp, air fry and dehydrate directly in the stainless steel pot of your electric pressure cooker.

And the CrispLid box comes with everything you need to convert your pressure cooker into an air fryer. So you don't need to buy anything additional to use it. Also, the CrispLid fits on both 6 quart and 8 quart pressure cookers. So it will work on 6 or 8 quart Mealthy Multipot as well as 6 or 8 quart Instant Pot.
What's in the CrispLid Box?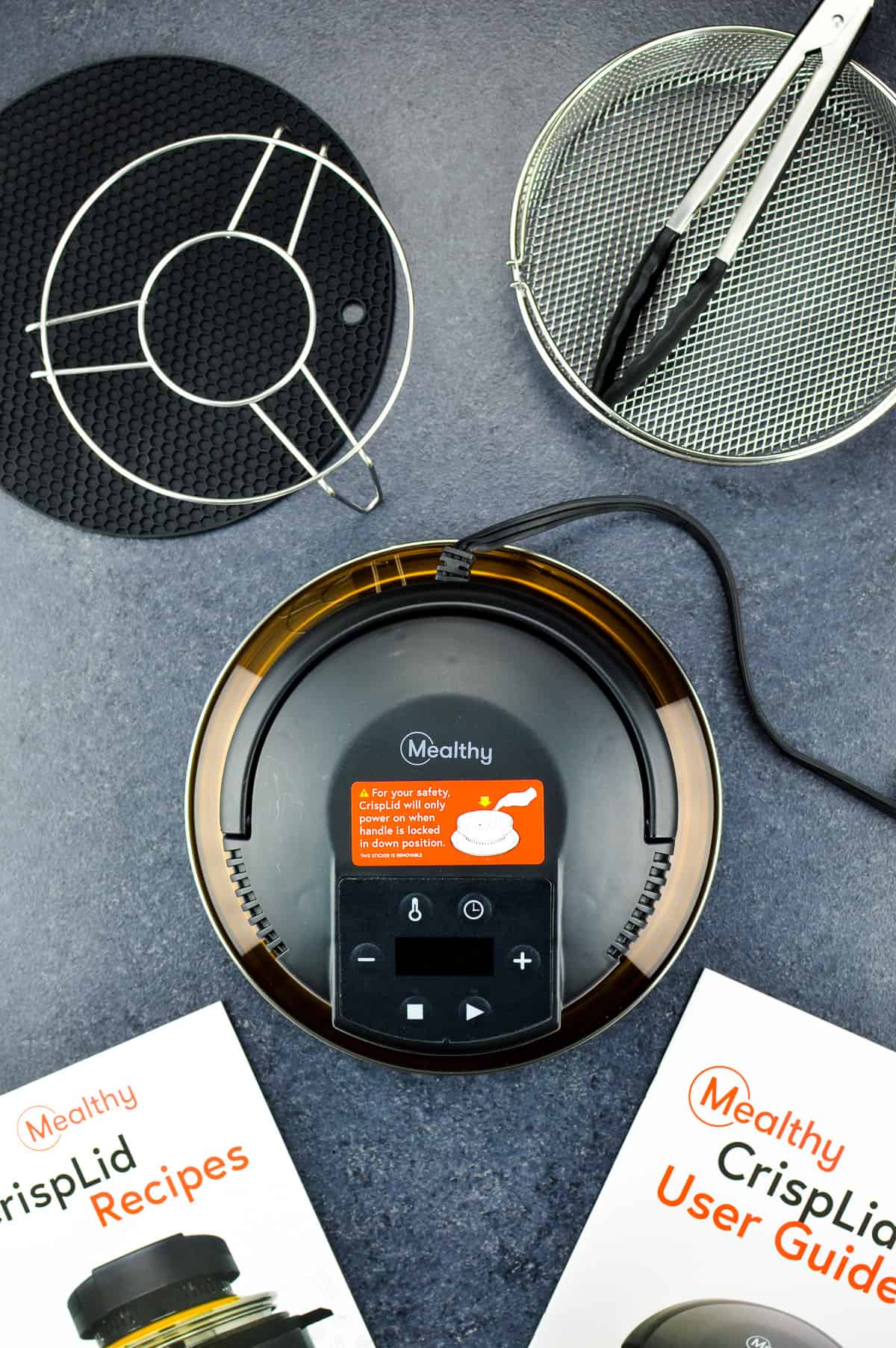 CrispLid Main Unit – This is main heating unit that is essentially a glass lid with a heating element, fan, vents, and the control panel to set the time and temperature.

Silicone Trivet – This is what you place the CrispLid on when it is not in use, yet still very hot.

Raised Steel Trivet – This is what you place in the inner pot of the pressure cooker to riase the air fryer basket.

Air Fryer Basket – This is the basket that goes on top of the steel trivet, and it's the basket in which you place the food to be air fried.

Tongs – to help you flip and turn the food.

User Guide & Recipe Book – to help you better understand & use your new gadget.
CrispLid Unboxing Video
Here is unboxing video, which shows what comes in the box, and gives a quick visual overview.
How Does the Mealthy CrispLid Work?
Like I mentioned earlier, you can use the CrispLid for a wide variety of things, but for the most part, you'd find it useful for two kinds of things

1. Broiling things you cooked in the pressure cooker. Like Mac & Cheese or even a Whole Tandoori Chicken (yes, you can cook it in the Instant Pot). You can simply attach the CrispLid once you are done cooking to crisp up the cheese on mac & cheese or broil the tandoori chicken – all in one pot! No need to take it out & crisp up or broil in the oven.

2. Air frying things instead of deep frying them. This is where the CrispLid can replace the free standing air fryer. A quick example is this CrispLid Sabudana Vada. I have shared how to make the vadas in this post here, but it's the deep fried / appe pan version. You can air fry them as well.

In-fact you can make sabudana vadas in less time, and using even lesser oil, using this CrispLid – and the best part is that it's handsfree for the most part. Set it, time it, and forget it!
CrispLid Sabudana Vada Recipe
Temperature 500 F, 7-8 minutes on one side, 7-8 minutes on the other side.
(check out this recipe for making sabudana vada dough)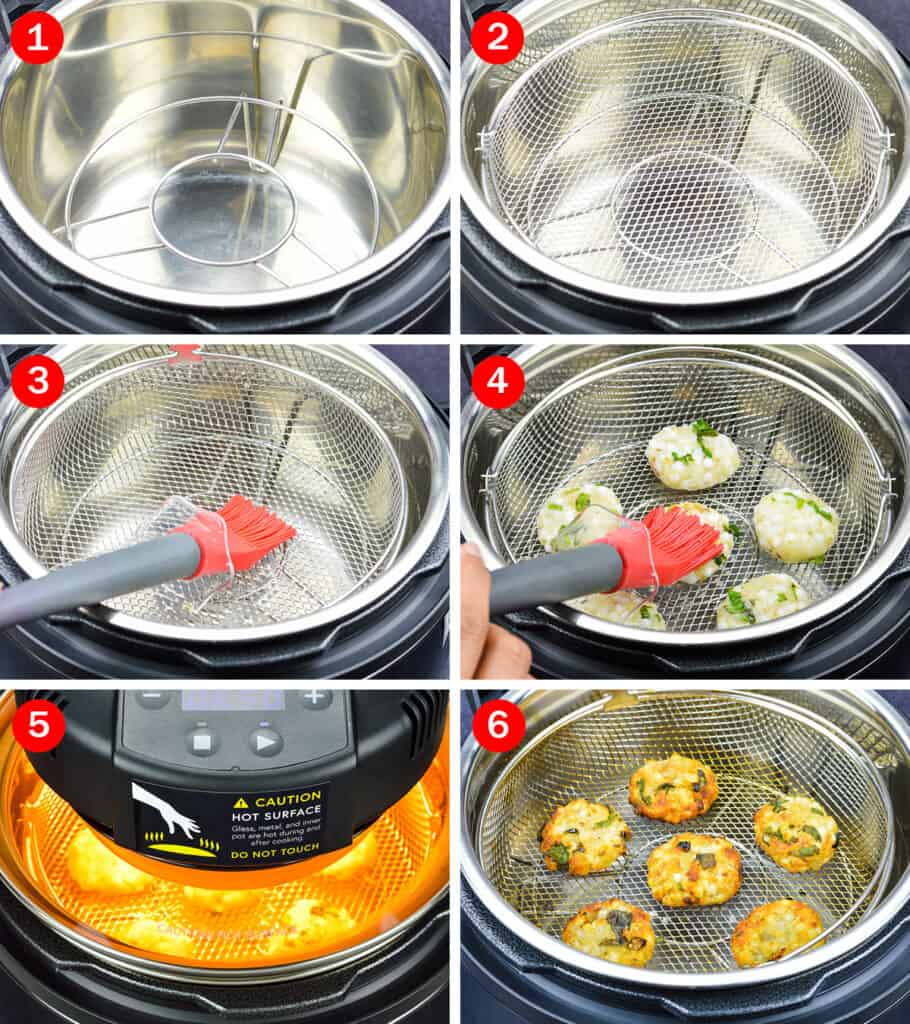 Mealthy CrispLid vs Free Standing Air Fryer
If you already own an air fryer, or are wondering how the CrispLid compares to a regular free standing air fryer, check out this comparison video, where I have made crispy fries using both the gadgets, while keeping most other variables constant.

Spoiler alert – You can make crispy and delicious fries using both of them. The main difference is ease of use – for fries that is. It's easier to toss fries by tossing the air fryer basket of the standalone air fryer. For most other dishes – both are equally easy to use. And both air-fry equally well. So in that way, they are both very comparable. Though of-course the CrispLid has additional functionality beyond air frying.
Pros & Cons of the CrispLid
To be entirely honest, I was in love with this gadget right from the time I first heard of it. But after having used it a couple of times, I have come across some more amazing things about it, as well as some not so great things.
Pros..
Saves precious counter space – Since this is a compact gadget that attaches right on top of your pressure cooker, it saves a lot of counter space compared to a free standing air fryer.

A more cost effective option – It's cheaper than most free standing air fryers in the market, with more functionality than the average air fryer.

Super easy to use – It doesn't have a plethora of functions to familiarize yourself with, just the option to set the time & temperature, and start & stop.

Even easier to clean – It's super easy to clean, as you just need to wipe down the main unit, and the accessories are all dishwasher safe.

Works with Multipot AND Instant Pot – This is a major pro in my book that it works with any electric pressure cooker and not just with Mealthy Multipot.

Works on 6 as well as 8 quart cookers – Another cool feature is that it attaches on top of both 6 and 8 quart Instant Pot and Mealthy Multipot.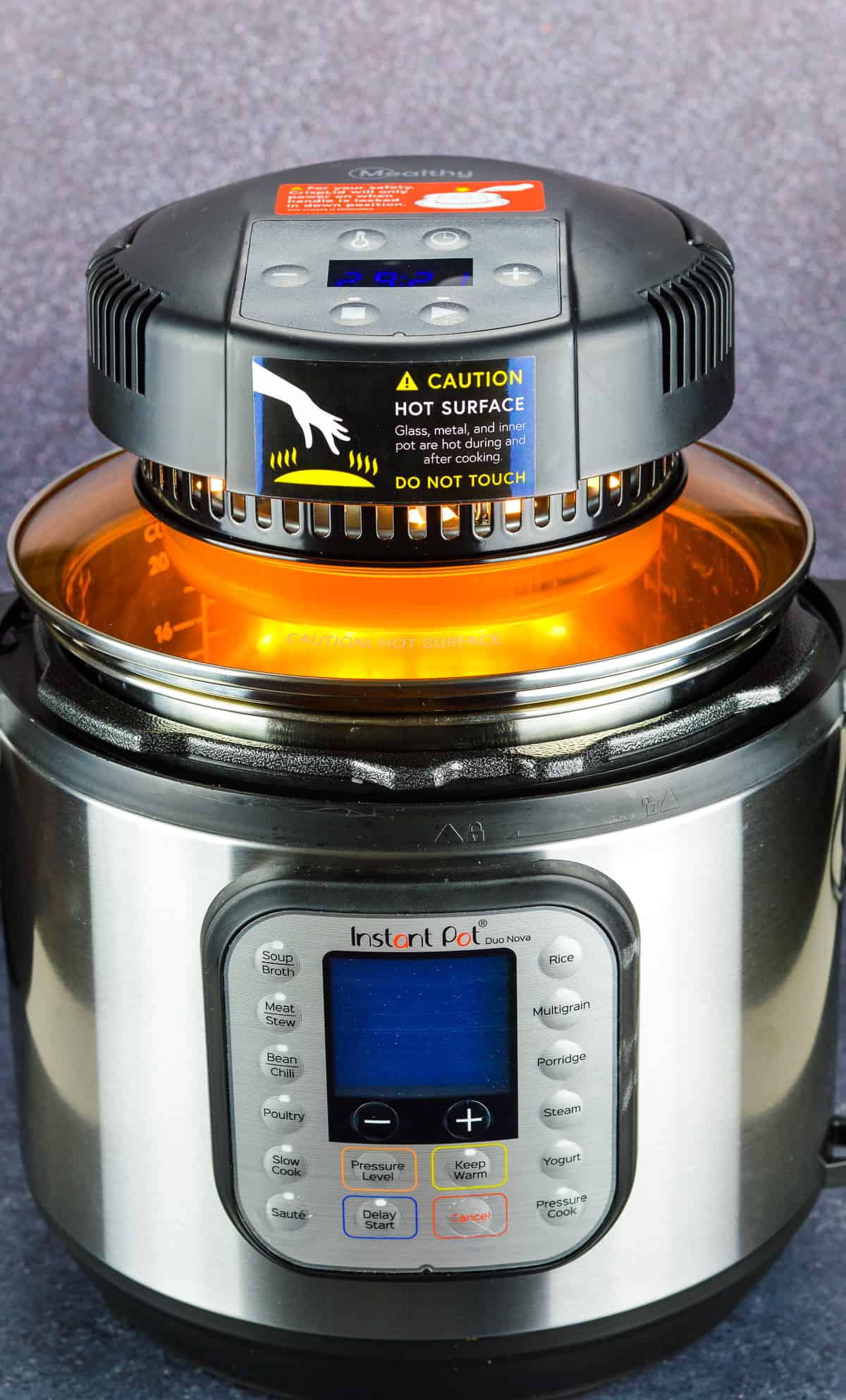 Cons..
Limited capacity – This is an issue with most air fryers, which is why while CrispLid can replace your air fryer, it will never be able to replace an oven, as it can only handle really small batches.

Not so easy to flip food – This is an issue only with certain kinds of food, like fries, which are easier to toss by tossing the air fryer basket of the free standing air fryer as opposed to manually flipping it in the CrispLid basket.
Should You Buy the Mealthy CrispLid?
This depends on a couple of things.

Do you already have an air-fryer? If yes, then you certainly don't need this for the air-frying functionality. You would then need to consider if you need it for broiling and crisping up the things you make in your pressure cooker. Which if you ask me, is a game changer by itself!
If you don't already have an air fryer, and you are looking to get one, you definitely must consider the CrispLid. It can replace the air fryer and has more functionality than a regular air fryer. AND it will save you money and precious counter space, as compared to an air fryer.
Where to Buy the CrispLid?
In US, you can get the CrispLid on the Mealthy site here, or on Amazon here.
In India, you can get the CrispLid on the Mealthy India site here, or on Amazon India here.
Hope you found this post helpful. If you have any further questions, feel free to drop me a comment, and I'll get back to you!