I am not a huge fan of dark chocolate or even milk chocolate really, but white chocolate is a whole different ball game. I can eat it every single day (multiple times even) in many different forms and never get bored or tired of it. And this White Chocolate Pound Cake Recipe is one of my favorite things to make (and eat) with white chocolate.
It's super delicious (well duh) and when done right, the soft, fluffy texture of this cake will simply melt in your mouth, and leave you with the subtle yet delectable flavor of white chocolate-y goodness, and transport you directly into white chocolate heaven (I'm only half kidding 😛 ).
And what's more? It's really easy to make, and only takes about 15-20 mins of active prepping time. The rest of the magic happens in the oven!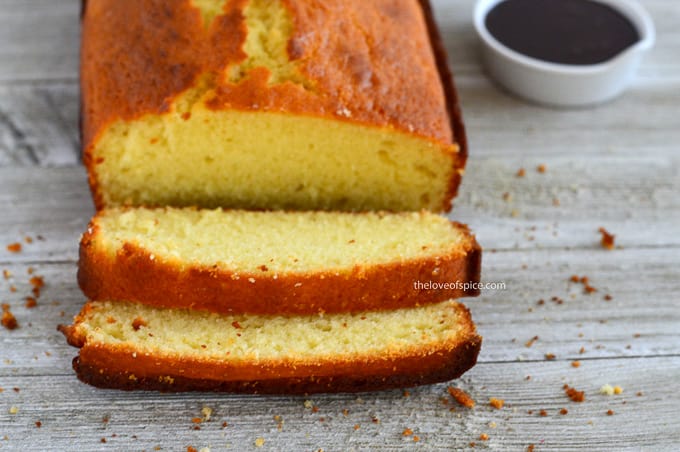 Oh and one final note on storage, before we get to the recipe – while it's best to eat this cake right out of the oven, when it's still fresh and warm, you can store it for 2-3 days at room temperature (so long as you wrap it well with plastic cling wrap).
But honestly, at-least in my house, it never lasts that long, to worry about storage and all I mean. More often than not, it's gone before we can blink an eye. 😀
Pin This for Later: Easy White Chocolate Cake Recipe
Print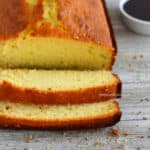 White Chocolate Pound Cake Recipe – In 6 Easy Steps
---
Author:

Prep Time:

15 mins

Cook Time:

50 mins

Total Time:

1 hour 5 minutes

Yield:

1 loaf

Category:

Dessert

Method:

Oven

Cuisine:

Cakes
Ingredients
Unsalted Butter (at room temperature) – 1/2 cup
Granulated Sugar – 3/4th cup
Eggs (preferably at room temperature) – 3
Vanilla Extract/Vanilla Paste – 1 teaspoon
Yogurt/Sour Cream – 1/2 cup
All Purpose Flour (Maida) – 1.5 cup
Baking Soda – 1/4 teaspoon
Baking Powder – 1/2 teaspoon
Salt – 1/4 teaspoon
Grated White Chocolate (I use Lindt) – 1/2 cup
Whole Milk – 1/8 cup
Non Stick Cooking Spray (I use Butter Spray) – As required
---
Instructions
Step 1: Preheat the oven @350 F.
While the oven is coming to temperature – spray a 9.5 inch bake/loaf pan with non-stick cooking spray/butter spray. Line the bottom with parchment paper. Set aside.
Step 2: Using a hand blender, cream (mix) the unsalted butter and sugar in a mixing bowl until they are well blended.
However be careful to NOT over mix.
Step 3: Now add in the wet ingredients – eggs, vanilla extract, yogurt, and blend them in. 
I usually combine these 3 ingredients in a separate bowl, before adding them in here, to ensure they are well mixed, without me having to run the blender for a long time to mix them in properly. Because over mixing leads to harder, denser cake, and you don't want that. The goal is to get the soft, fluffy texture (with lots of air pockets) that just melts in your mouth.
Step 4: Once that is done, add in the dry ingredients – all purpose flour, baking soda, baking powder and salt, and blend them in. 
Here again I have combined the dry ingredients in a separate bowl before adding them in – for the same reason I mentioned above.
Step 5: After the dry ingredients have all been blended well to make a smooth creamy batter, it's time to add in the grated white chocolate, and the milk, and mix them in.
Adding milk is optional, but I'd highly recommend it because at this stage the white chocolate might dry out the batter just a bit, and a little splash of milk will help it get the smooth creamy texture.
Step 6: Once everything is well blended – pour this mix in the loaf pan (level out the surface of the batter with a spatula) and bake @ 350 F at top rack for 50 minutes. 
Note: The time might vary a little, so you should keep an eye on it after the 45 minute mark. You can check if the cake is done by inserting a clean toothpick at the center (to check for any uncooked batter). If the toothpick comes out clean, the cake is ready. If not, then put it right back in and check every couple of minutes or so to ensure you do not overcook it. Once the cake has been baked and is ready, let it cool for about 10-15 minutes before removing it out of the loaf pan.
FINAL (not really a) STEP: Serve as is or with your choice of fruit jam/chocolate syrup or even cream cheese frosting.
Dig In and ENJOY! 🙂 
Notes
It's really important that the butter is at room temperature, so plan ahead, and keep it out on the counter well in advance (in case you store your butter in the fridge that is). It's also ideal (but not critical) to have room temperature eggs and yogurt/sour cream.
Speaking of which, I know in the ingredients I have mentioned sour cream and yogurt as alternatives, but I mostly use yogurt, because that's what I always have handy. But sour cream is a good replacement in case you don't have yogurt. However if you have both – I'd say go with yogurt.
You can use white chocolate chips (as an alternative to grated white chocolate) but I personally do not like the chunks running through the pound cake, and prefer the flavor of white chocolate infused all through the cake. But that's just me and my personal preference. You can always use the white chocolate chips instead of the grated chocolate, but in that case you may want to lightly coat them with flour before adding them to the batter so that they do not sink to the bottom of the loaf pan.
PIN RECIPE FOR LATER
I've done my very best to share the exact measurements, and outline every step, but if something is not clear to you, or you have questions about quantities or alternatives, or anything at all, feel free to ask in the comments. I promise to reply to every single query.
If you like the recipe, please do take the time to rate the recipe below. I would truly appreciate it. 🙂  

You can also follow The Love of Spice on Facebook to stay connected with new recipes out every week. I look forward to seeing you there! 🙂