Chicken Fried Rice (or any kind of fried rice actually) is one of those dishes that you can whip up without any particular recipe and with any ingredients you have on hand. Okay not any any, but you get the idea. Though more often than not, I stick to this recipe, or use this as a base for my creative variations, because I usually cook fried rice in bulk, either for potluck parties or as a part of my meal prep for the week, and for those things I prefer a sure-fire winner of a recipe.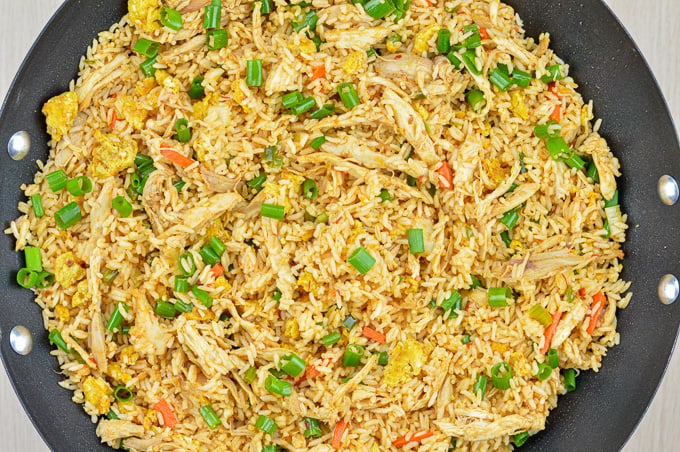 That being said, every now and then, when I simply want to clean out my fridge, or use up leftovers before a grocery visit, fried rice is also kind of my go-to dish to make, because like I said, for fried rice- anything goes. So long as you have rice, veggies/meat, and some sauces, you can literally choose your own adventure, so to speak.
Which sometimes admittedly can have very…interesting results, in both extremes. But hey, you live and you learn, right?
Pin Recipe for Later: Easy Chicken Fried Rice Recipe
Freshly Cooked Rice v/s Leftover Rice for Fried Rice
There are no two ways about the fact that leftover rice is always better to make fried rice, because it usually has dried out enough and has the right texture for fried rice. And this is especially great if you want to go on the clean-your-fridge kind of adventure.
That being said, I almost always cook rice specifically for making fried rice, because like I said I mostly cook this in bulk. But even then, I usually cook the rice one day in advance so that it doesn't have the moisture of freshly cooked rice and has had the chance to dry out a bit.
Though if you fail to plan ahead or the craving hits, feel free to use freshly cooked rice, so long as you let all the steam out, and let it cool before using it.
Best Way To Cook Rice for Fried Rice
If you are cooking rice from scratch, particularly for fried rice, I'd say it's best to put a couple tablespoons of oil (for the specified quantity of rice in this recipe) in the water while cooking the rice, so that the grains stay separate.
And then once the rice is cooked, depending on the method you use for cooking rice, open the lid immediately to let all the steam escape, or strain it in a colander so that rice doesn't overcook sitting in the steam or water.
Pair Fried Rice with Delicious/ Homemade Restaurant Style Chicken 65 – Check out the recipe here!
Print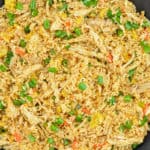 Easy Chicken Fried Rice | Meal Prep Recipe
---
Author:

Prep Time:

30

Cook Time:

15

Total Time:

45

Yield:

6 – 8

Category:

Main Course

Method:

Stovetop

Cuisine:

Indo Chinese
Ingredients
Uncooked rice: 2 cups ( about 9 cups cooked rice)
Vegetable/Canola oil: 1/4 cup
Garlic (finely chopped) – 4 tablespoons
Ginger (finely chopped) – 2 tablespoons
Capsicum (chopped) – 1/2 cup
Carrot (chopped) – 1/2 cup
Spring onions (chopped) – 1 bunch, 5-7 stalks
Rotisserie/boiled chicken (shredded) – 3 cups
Soy Sauce – 3 tablespoons
Chili Garlic Sauce – 3 tablespoons
Oyster Sauce – 2 tablespoons
Chili Vinegar – 2 tablespoons
Chili Sauce/Sriracha – 2 tablespoons
Eggs – 4
Oil (to scramble eggs) – 2 tablespoons
Salt (for egg)- 3/4 teaspoon
Chili powder (for egg) – 1 teaspoon
Turmeric powder (for egg) – 1/4 teaspoon
Salt – 1 teaspoon
---
Instructions
In a wok, heat up 1/4 cup oil, add in chopped ginger and garlic, and saute for a few minutes, until the ginger garlic start to change color & turn reddish. Then add in chopped veggies (carrot, capsicum & spring onion whites – retain spring onion greens for garnish), and saute for 3-5 minutes.
Simultaneously, in a different pan, heat up 2 tablespoons of oil, and start scrambling the eggs, that are seasoned with salt, chili powder and turmeric powder. Once the scrambled eggs start coming together, turn off the gas, and set it aside. You can choose to not season the scramble, and do the scramble in the main pot/wok itself. I just prefer to do it this way.
Now coming back to the wok, once the veggies are slightly cooked, add in the shredded chicken & the scrambled eggs, along with a sauce mix consisting of 1 tablespoon each of soy sauce, chili garlic sauce, chili vinegar and oyster sauce & mix everything well.
Once that is done, it's time to add in the rice, and mix everything well, ensuring the rice is not forming any sticky clumps. Which it shouldn't, especially if you are using leftover dried rice from the fridge.
After the rice is mixed well with the veggies, chicken & eggs,  you can add the rest of the sauce mix, consisting of 2 tablespoons each of soy sauce, chili sauce/sriracha, chili garlic sauce, and 1 tablespoon each of oyster sauce and chili vinegar, and 1 teaspoon salt.
Mix everything well, garnish with the spring onion greens, and voila, Chicken Fried Rice is ready to serve!
Pin Recipe for Later: Easy Chicken Fried Rice 
Notes
I have used carrots, capsicum/green peppers because those are the veggies we always have on hand. You can replace them with whatever you have available. Though do not use regular onions.
If you are short on time, you can even use those pre-packaged frozen veggies, and use 2 tablespoons of ginger garlic paste instead of chopped ginger and garlic.
I usually make two different sauce mixes and add it in during different times, just to season everything well at every stage, but feel free to dump it all in with the rice.
I have used unseasoned rotisserie chicken (boiled chicken) but you can also use seasoned pan fried chicken, if that's what you want. Though if they are kind of crispy, I would add them in towards the end to retain the texture.
PIN RECIPE FOR LATER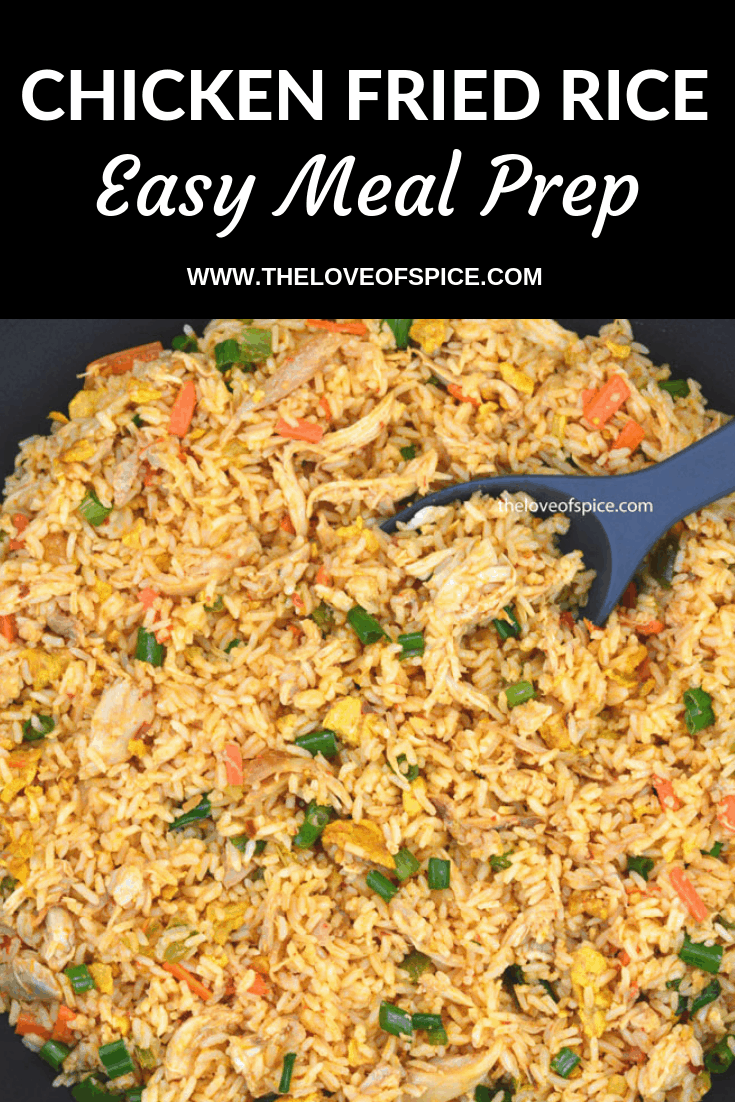 I've done my very best to share the exact measurements, and outline every step, but if something is not clear to you, or you have questions about quantities or alternatives, or anything at all, feel free to ask in the comments. I promise to reply to every single query.
If you like the recipe, please do take the time to rate the recipe below. I would truly appreciate it. 🙂  

You can also follow The Love of Spice on Facebook to stay connected with new recipes out every week. I look forward to seeing you there! 🙂