Chicken Fried Rice (or any kind of fried rice actually) is one of those dishes that you can whip up without any particular recipe and with any ingredients you have on hand.
Okay not any any, but you get the idea. Though more often than not, I stick to this recipe, or use this as a base for my creative variations, because I usually cook fried rice in bulk, either for potluck parties or as a part of my meal prep for the week, and for those things I prefer a sure-fire winner of a recipe.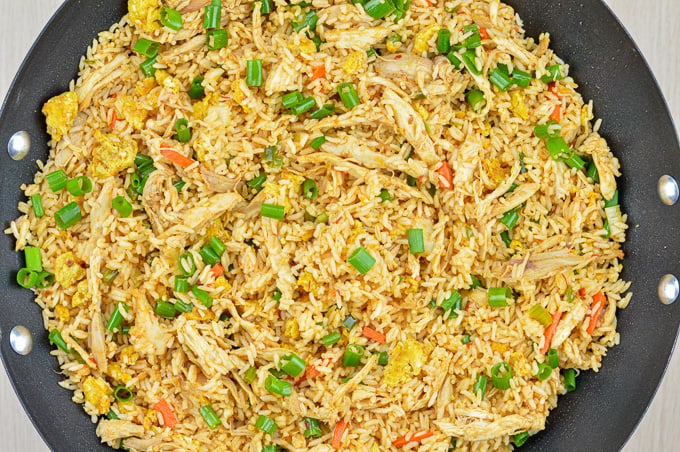 That being said, every now and then, when I simply want to clean out my fridge, or use up leftovers before a grocery visit, fried rice is also kind of my go-to dish to make, because like I said, for fried rice – anything goes. So long as you have rice, veggies/meat, and some sauces, you can literally choose your own adventure, so to speak.
Which sometimes admittedly can have very…interesting results, in both extremes. But hey, you live and you learn, right?
What You Need for Making Chicken Fried Rice
These are the basic elements / ingredients to put this dish together. But like I mentioned above, this is a dish that can be very easily adapted to suit your ingredient and flavor preferences. Of-course some ingredients & flavors are not as easily substituted.
Ingredients:
1. Rice – Leftover or Freshly Cooked
2. Chicken – Rotisserie or Baked or Fried
3. Eggs – Spiced and Scrambled
4. Veggies – Based on your preference
5. Ginger Garlic – Fresh chopped or ginger garlic paste
6. Sauces – The one thing I recommend you don't substitute
Sauces:
1. Soy Sauce
2. Oyster Sauce
3. Chilli Garlic
4. Chilli Vinegar
5. Sriracha
Freshly Cooked Rice v/s Leftover Rice for Fried Rice
There are no two ways about the fact that leftover rice is always better to make fried rice, because it usually has dried out enough and has the right texture for fried rice. And this is especially great if you want to go on the clean-your-fridge kind of adventure.
That being said, I almost always cook rice specifically for making fried rice, because like I said I mostly cook this in bulk. But even then, I usually cook the rice one day in advance so that it doesn't have the moisture of freshly cooked rice and has had the chance to dry out a bit.
Though if you fail to plan ahead or the craving hits, feel free to use freshly cooked rice, so long as you let all the steam out, and let it cool before using it.
Best Way To Cook Rice for Fried Rice
If you are cooking rice from scratch, particularly for fried rice, I'd say it's best to put a couple tablespoons of oil (for the specified quantity of rice in this recipe) in the water while cooking the rice, so that the grains stay separate.
And then once the rice is cooked, depending on the method you use for cooking rice, open the lid immediately to let all the steam escape, or strain it in a colander so that rice doesn't overcook sitting in the steam or water.
How to Make Chicken Fried Rice
In a large wok, heat up a little oil, and lightly fry freshly chopped ginger & garlic till they turn light reddish in color. You can substitute fresh ginger and garlic with ginger garlic paste.
Then add the veggies & roast them for 3-5 mins on medium high flame.
At this point, you can simultaneously start scrambling the eggs in a different pan. Or even scramble it in the main wok.
If you choose to scramble them in the main wok, it's best to push the veggies to one side of the wok, and scramble the eggs on the other side before mixing everything together.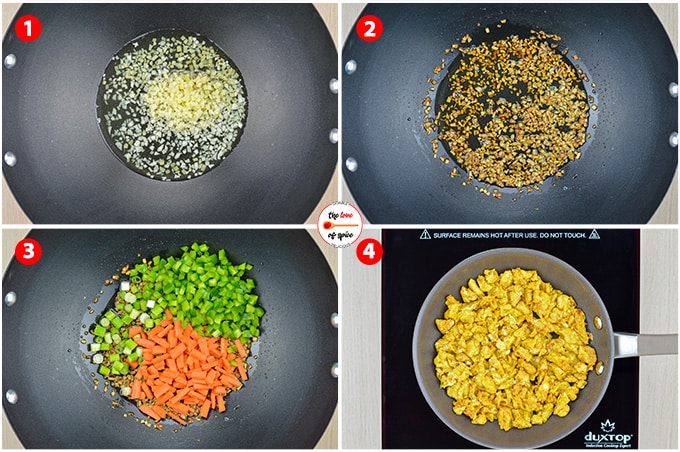 If however you are scrambling the eggs in a separate pan, then you can add chicken & the first layer of sauces to the veggies, before you add the scrambled eggs to the main wok.
Irrespective of the order, mix everything together well, and then add the rice, and mix it in.
Next add the leftover sauce mix, salt & mix everything together.
Finally, garnish with spring onion greens and serve!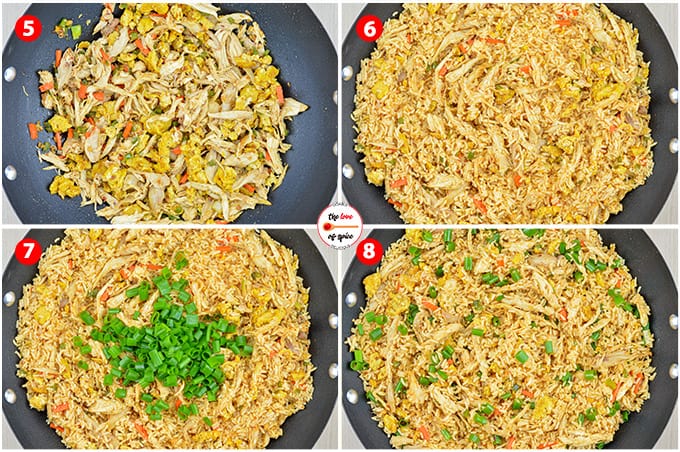 Recipe Variations:
Fried Rice is a very versatile dish. You can choose to add whatever you prefer and substitute anything that you are not fond of. Or most things anyway.
You can make this recipe just using veggies, just eggs, just chicken, or any combination you prefer. Just adjust the amount of ingredients & sauces accordingly.
Like I mentioned above, I frequently make what I call – Cleaned-The-Fridge Fried Rice. Where I grab any veggies / meat that I have on hand, and want to finish out, and use it in fried rice.
Meal Prep Fried Rice
Every Friday I plan meals for the next week, and fried rice is one of those dishes that is on regular rotation at our place. Mostly because of the ease, and sheer versatility of this dish.
The recipe listed below makes a big batch. You can eat some of it fresh over the weekend when you meal prep for the week, and still easily manage to get 2 packed lunches for 2 people (Mon & Tue).
What To Serve With Fried Rice
There are lots of things that you can pair with Fried Rice. Soups, appetizers, drinks etc.

Some of our favorite combinations are Fried Rice with Crispy Chicken 65 or Indian Style Pepper Chicken.
This recipe has been updated from the recipe archives, first published in 2019.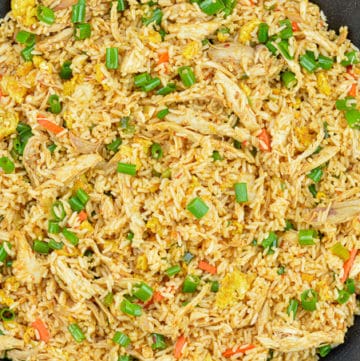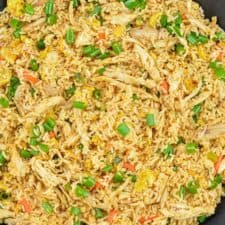 Easy Chicken Fried Rice (Using Rotisserie Chicken) | Meal Prep Recipe
easy recipe to make chicken fried rice from scratch, which is kid friendly and also perfect to include in weekly meal prep (see notes for recipe variations)
Print
Pin
Rate
Ingredients
9

cup

cooked rice

or 2 cup raw rice

6

tablespoon

oil

divided

4

tablespoon

finely chopped garlic

4

tablespoon

finely chopped ginger

½

cup

chopped carrot

½

cup

chopped capsicum

1

bunch

spring onion

5-7 stalks, chopped, and divided by whites & greens

3

cups

shredded chicken

rotisserie or any other kind

3

tablespoon

soy sauce

divided

3

tablespoon

chilli garlic sauce

divided

2

tablespoon

oyster sauce

divided

2

tablespoon

chilli vinegar

divided

2

tablespoon

chilli sauce / sriracha

4

eggs

1.5-1.75

teaspoon

salt

divided

1

teaspoon

chilli powder

¼

teaspoon

haldi / turmeric powder
Instructions
In a wok, heat up 1/4 cup oil, add in 4 tablespoon of chopped ginger and 4 tablespoon of chopped garlic, and saute for a few minutes, until the ginger garlic start to change color & turn lightly reddish. 

Next add in the chopped veggies - ½ cup chopped carrot, ½ cup chopped capsicum, ½ cup chopped spring onion whites (save the spring onion greens for garnish). Mix well and saute for 3-5 minutes on medium high heat.

Then add in the shredded chicken, and a sauce mix consisting of 1 tablespoon soy sauce, 1 tablespoon oyster sauce, 1 tablespoon chilli garlic sauce, and 1 tablespoon chilli vinegar. Mix everything well.

As you do this, simultaneously, in a bowl beat 2 eggs, add ½ - ¾ teaspoon salt, 1 teaspoon chilli powder & ¼ teaspoon haldi powder to it, and mix well. 

Then heat up 2 tablespoon oil in a pan, and scramble the eggs. Once the eggs are scrambled, add them into the main wok with the veggies and the chicken. Mix everything together. 

Next add the rice, ensuring that the rice is not forming any sticky clumps (which it shouldn't, especially if you are using leftover dried rice from the fridge).

Then add the rest of the sauce mix consisting of 2 tablespoon soy sauce, 2 tablespoon chilli garlic sauce, 2 tablespoon chilli sauce / sriracha, 1 tablespoon oyster sauce, 1 tablespoon of chilli vinegar, along with 1 teaspoon of salt.

Mix everything well, and garnish with spring onion greens. 

Chicken Fried Rice is ready to serve!
Notes
Rice: You can use fresh or leftover rice. If you choose to use fresh rice, add a few tablespoons of oil while cooking the rice to ensure the grains stay separate. 
Ginger Garlic: If you are short on time, you can substitute fresh ginger and garlic with ginger garlic paste. I always have homemade ginger garlic paste in my fridge, which I often use for fried rice. For this recipe, use 2 tablespoon of ginger garlic paste.
Veggies: I have used carrots, capsicum/green peppers because those are the veggies we always have on hand. You can replace them with whatever you have available/prefer. Though avoid replacing spring onions with regular onions.
Egg: I have spiced and scrambled eggs separately, but some prefer to scramble eggs in the main wok, and that will work too. I just prefer to do it separately.
Chicken: I have used rotisserie chicken, but you can use any kind you prefer. I often use any chicken I have on hand, even fried chicken, when I have extra pieces from making chicken 65. Though when I am using fried chicken, I add that in last.
Recipe Variations: Fried Rice is a very versatile dish. You can choose to add whatever you prefer and substitute anything that you are not fond of. You can make this recipe just using veggies, just eggs, just chicken, or any combination you prefer. Just adjust the amount of other ingredients and sauces accordingly. 
The Sauces: The one thing I strongly recommend not substituting are the sauces. Use these -  Soy Sauce, Oyster Sauce, Chilli Garlic, Chilli Vinegar, Sriracha (links to these sauces shared in the post above the recipe card)
If you'd like FREE recipes and meal prep ideas delivered directly to your email inbox every Friday in one short email, then subscribe to the Foodie Friday list HERE, and never run out of ideas on what to cook over the weekend or prep for the week ahead. 🙂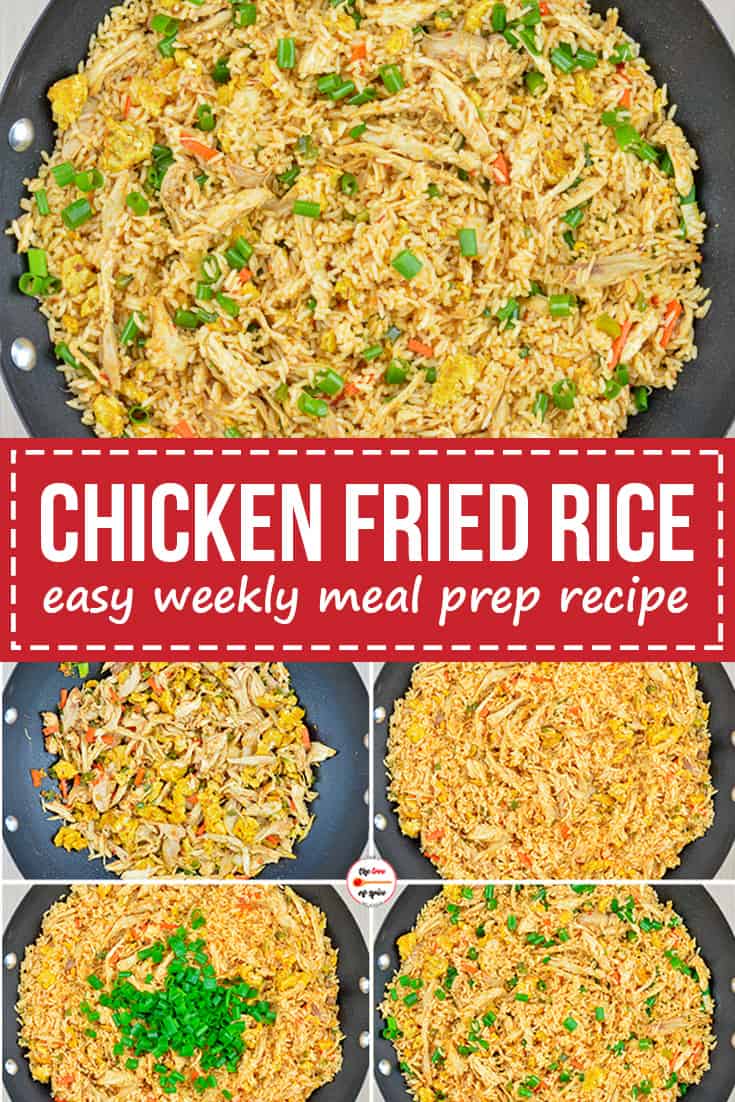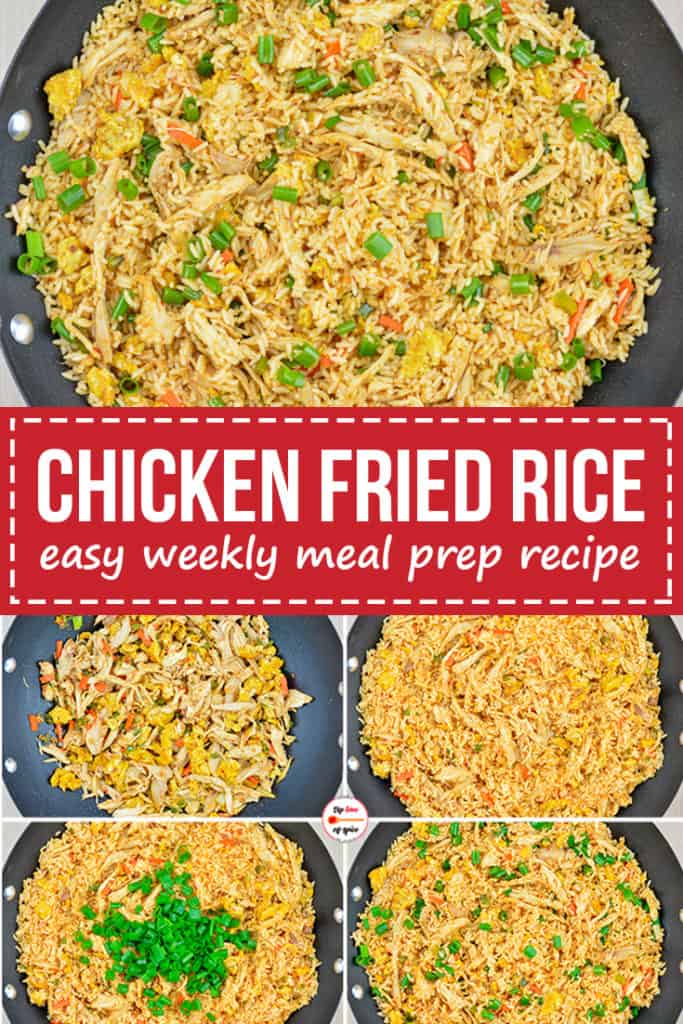 How to make chicken fried rice from scratch (with lots of recipe variations)