This idli fry recipe uses leftover idlis to make a quick + yummy snack. Deep fry, air fry, or oven bake leftover idlis to make crispy fried idlis, serve them with ketchup (or a dip of your choice), and enjoy!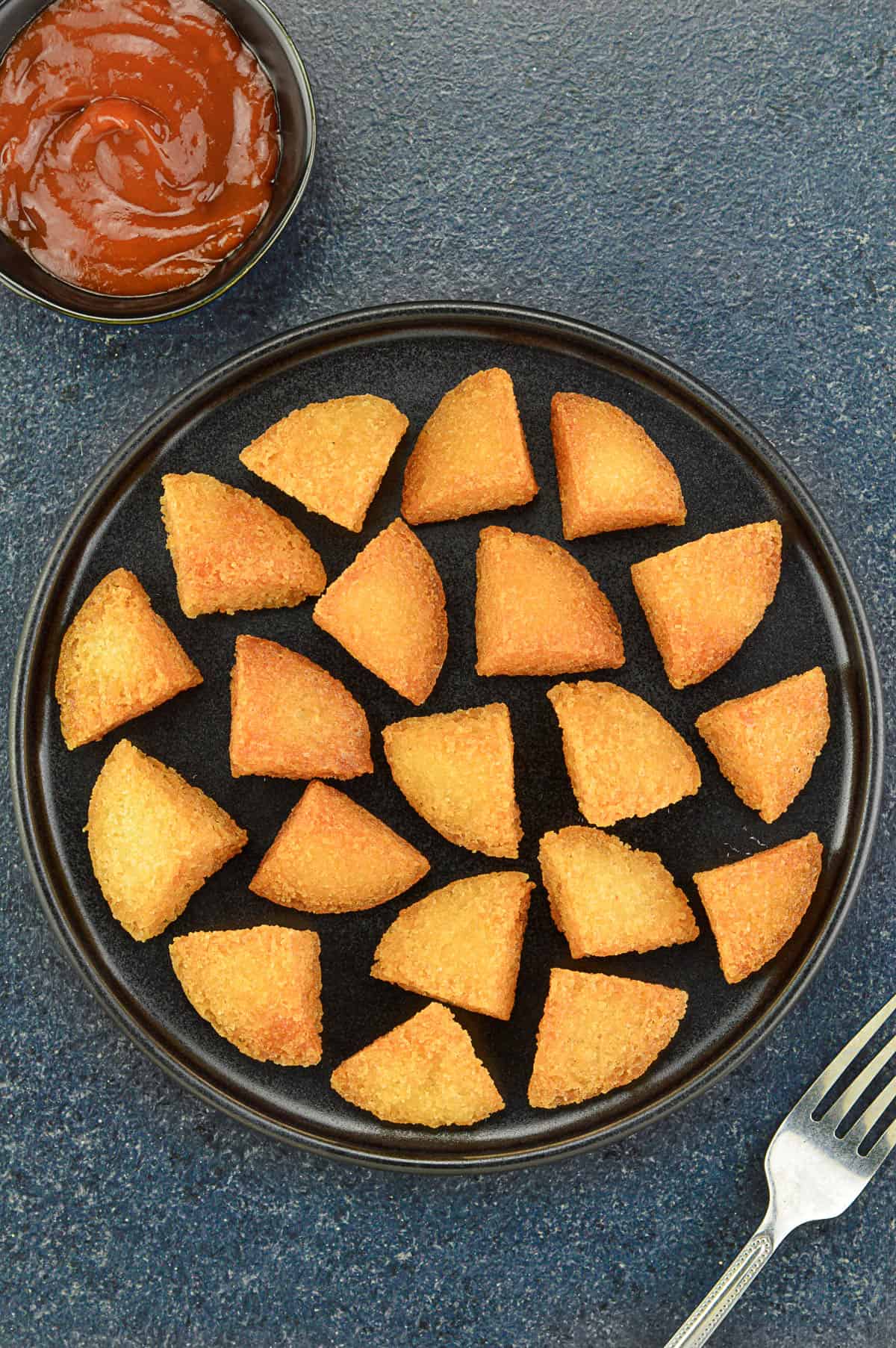 At our place, idlis are on regular rotation, and if you have seen my post on making & fermenting idli batter, you know I make batter enough for 45-50 idlis at a time.

But since we are only a 3 person household, we can't eat all those idlis at one go. And so normally, I make one round of idlis, and store the leftover idli batter for making dosas, appams or uttapams later in the week.
But there are times when we have leftover idlis too, not just batter. And while those can be reheated and eaten later, we prefer to transform them to make something else, because reheated idlis are never as good as freshly steamed ones.
And moreover, leftover idlis, even if you have refrigerated them, make for a great base for a wide variety of delicious dishes.

This idly fry recipe being the quickest & the easiest of the lot. Because all you have to do is cut up idli & fry them.

You can deep fry, air fry, or even drizzle a little oil and bake them in the oven. And needless to say the deep fried version tastes amazing. But my go-to method is air frying the idli bites. Not only because this method uses very little oil, but we all love the texture of air fried idli bites too. As they are perfectly crispy on the outside, and satisfyingly soft & chewy on the inside.
So if you haven't tried them, you totally should!
Jump to:
Using Leftover Idlis to Make Idli Fry
I usually only have leftover idlis, and not these smaller bullet idlis, because I usually only make small batches of bullet idlis for my son who loves them.
But I had them when I was shooting photos for this post, so I used them too. Though I have to say, I prefer using regular idlis for idli fry as I like that they have more of a bite to them.
If you are using regular idlis, just cut them into bite sized chunks, based on your preference. Though I would recommend not cutting them too small, because then they will not have the crispy texture on the outside and chewy on the inside, they will mostly be all crisped up.

Idli Fry in Air Fryer
You can deep fry, air fry or even oven bake these idli bites. But like I mentioned above, air frying is my go-to method for making crispy fried idlis. Because it hardly requires any oil, as I only use oil spray (but you can drizzle some oil too, based on your preference), and we all personally enjoy the texture too.
I usually air fry @ 390 F for 10-15 minutes, just until the idli bites are crispy on the outside, while still being chewy on the inside.
The time will vary based on the air fryer you are using, and I also recommend to adjust it to suit your preferred texture.
Serving Suggestion
Serve crispy fried idlis with ketchup, or a dip of your choice, and enjoy!
Variations
Deep Fry – Growing up, mom used to make these deep fried idli bites, and we really enjoyed them. If you are going to deep fry, ensure to only fry till they are crisp on the outside, and lightly golden brown (see image shared earlier in the post).

Oven Bake – You can bake these idli bites in the oven too, but I almost never bake them in the oven, because air frying is quicker, and lesser hassle, plus better texture.
Related recipes to try..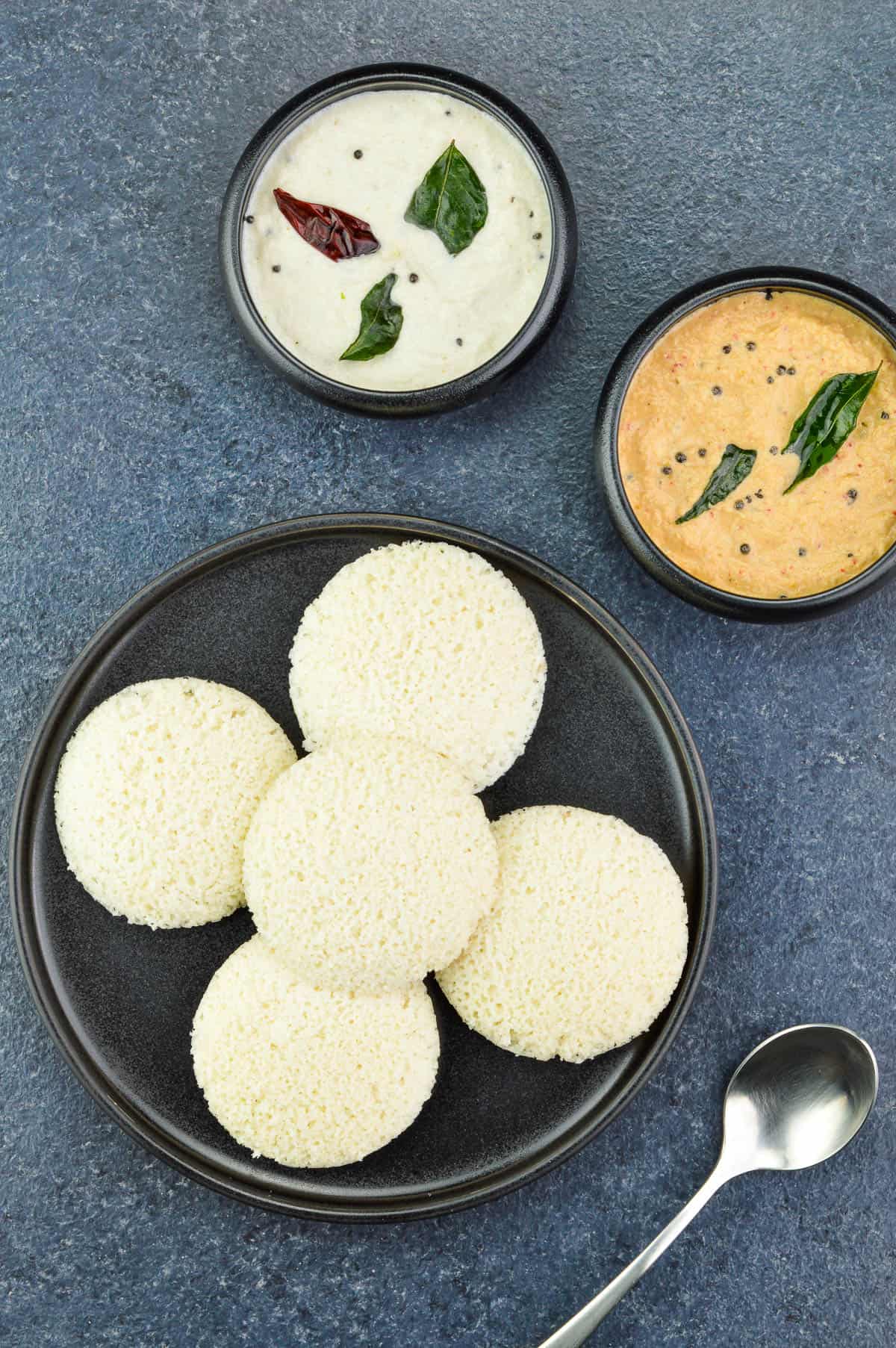 ⭐️ Perfect Well Fermented Idli Batter – Every Single Time
⭐️ South Indian Style Coconut Chutney (classic white chutney)
⭐️ Red Coconut Chutney (flavored with chillies & garlic)
As always, I hope you found this recipe useful. If you did, please let me know your rating ⭐️ and feedback 📲 in the comments below, or simply rate the recipe right on the recipe card. I'd really appreciate it. ❤️ 
📖 RECIPE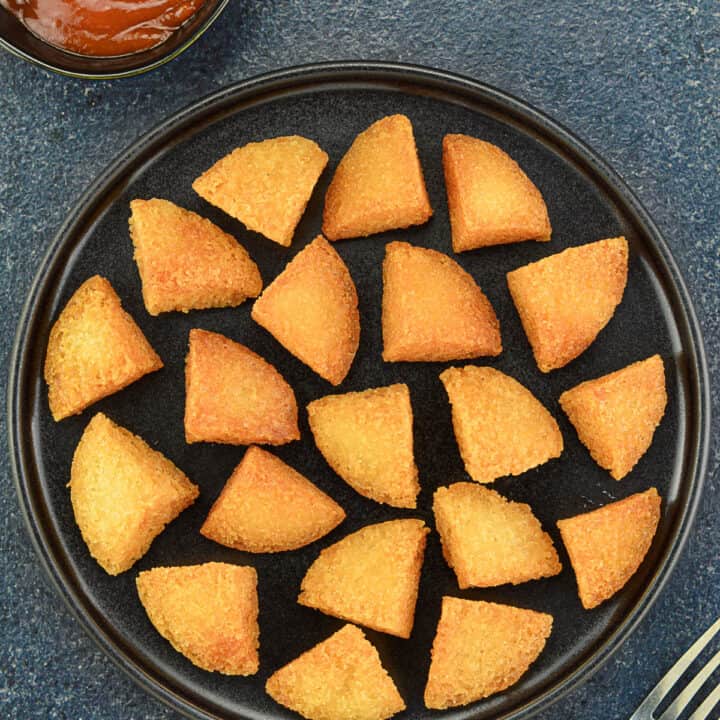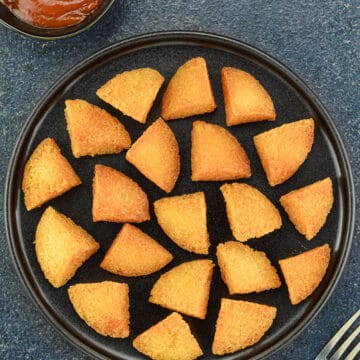 Idli Fry (Fried Idli Recipe)
leftover idli recipe to make idli fry (fried idli recipe)
Print
Pin
Rate
Servings:
6
leftover idlis
Ingredients
6

idlis

usually leftover ones

oil / oil spray

based on method of frying
Instructions
Cut idlis into small bite sized pieces.
Deep Fry
Heat up oil in a kadai, and fry the idli bites, till they turn light golden brown & crispy on the outside.
Air Fry (my go-to method)
Spray the air fryer basket with oil (or grease the basket with oil), then add the idli bites in.

Air fry at 390 F for 10-15 minutes, till idli bites are lightly crispy on the outside. Time might vary based on kind of air fryer, and the level of crisp you prefer.

Serve fresh with a dip of your choice.
Notes
Leftover Idlis – You can always make idli fry with fresh idlis, but it's best to use leftover idlis that have dried out a bit, especially after refrigeration. Enjoy freshly steamed idlis with classic white coconut chutney or red coconut chutney. 🙂
Bite Sized –

Do not cut the idli into very small pieces, because there is a higher chance the idli bites will turn overly crispy, and not have the satisfying soft & chewy bite to them. Ideally they should be crisp on the outside & soft & chewy on the inside.

Oven Bake – You can also drizzle a little oil on them and oven bake these idli bites. But I prefer air frying them because it is the quicker, less hassle method in this case, and we prefer the air fried texture too.
If you'd like FREE recipes and meal prep ideas delivered directly to your email inbox every Friday in one short email, then subscribe to the Foodie Friday list HERE, and never run out of ideas on what to cook over the weekend or prep for the week ahead. 🙂