Onion Tomato Masala forms the base of many Indian curries. It's also something you can easily prep in advance.
In-fact if you do make and store or freeze this onion tomato masala in advance, maybe over the weekend, then it will help you save lots of time and energy during the week. Because you wouldn't have to deal with all the chopping and the roasting of onions and tomatoes during the weekday, which can be really time consuming.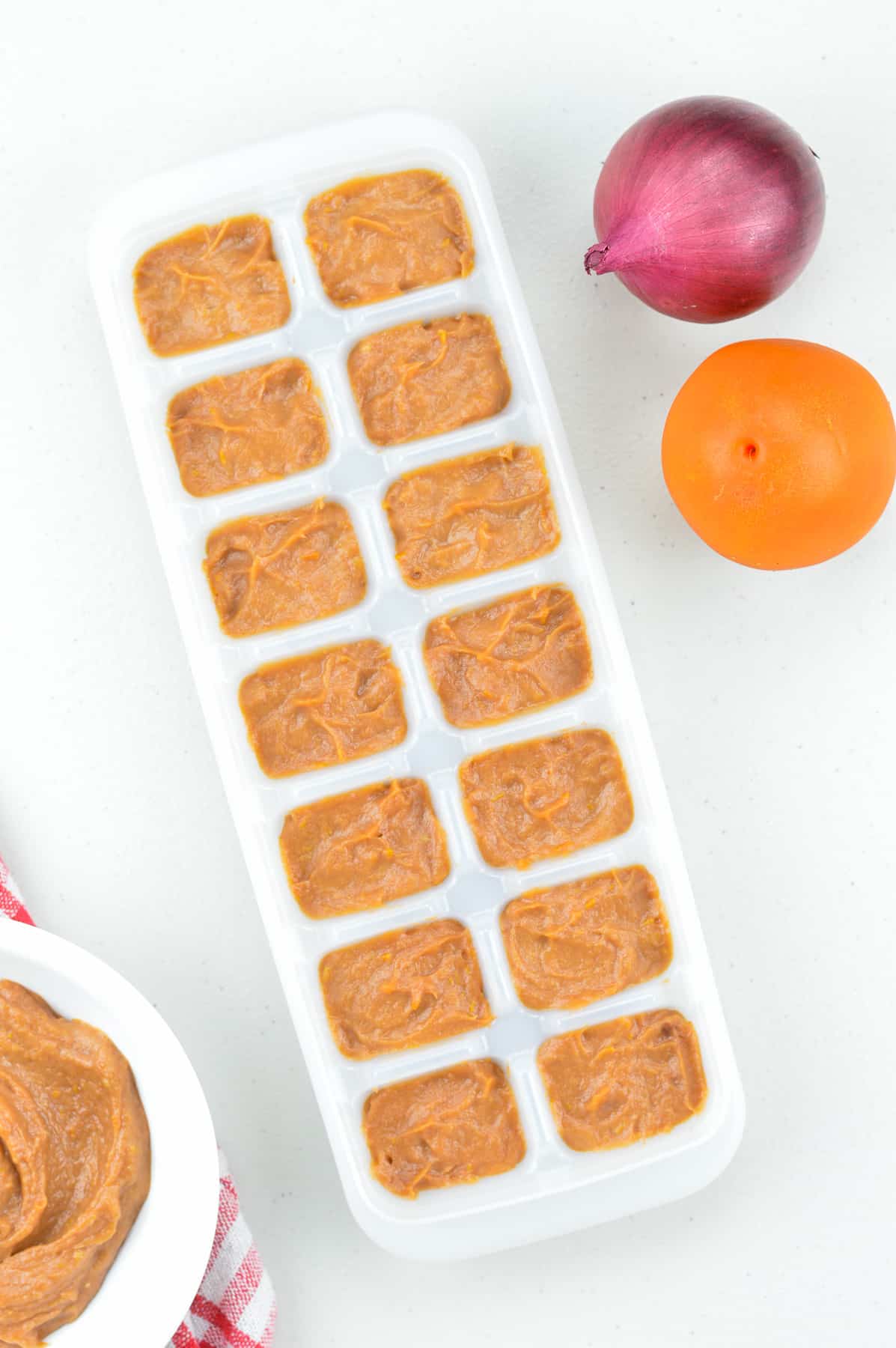 What is Indian Onion Masala or Onion Tomato Gravy Base?
Indian Onion Masala or Onion Tomato Gravy Base is exactly what the name makes it sound like – it's an Indian curry base made out of onions and tomatoes.
More specifically, this masala base is made out of roasting onions and tomatoes really well, and cooking them down.
That being said, there are many optional additions that can be made, based on your preferences. And I've included them in the recipe below.
Also, in the base form, this onion tomato masala base is different from Bhuna Masala. You can say it's the simpler version of Bhuna Masala.
Because Bhuna Masala has ginger, garlic, and all the basic Indian spices, which help us make most Indian curries in the dump & go style.
On the other hand, this onion tomato masala, does not contain ginger and garlic or the Indian spices. Which has its own advantages, as we can choose to add or skip ginger garlic paste, and only add the spices we want to, depending on the curry we are making.
Moreover, adding spices or ginger garlic paste while making curries, doesn't take much time. It's the chopping and roasting of onions and tomatoes that's time consuming, and what this masala base takes care of.

I use this onion tomato base when I need more control on the dish I am making, and Bhuna Masala when I want to make a dump & go style of Indian curry or rather Instant Indian curry. 😀
Side Note: If you add ALL the optional items listed, you'll basically end up with Bhuna Masala. 🙂

And if that's what you would rather do, you can check out this post on making Bhuna Masala in the Instant Pot (or the Stovetop).
How to Make Onion Tomato Masala
1. Heat up a little oil, and add in the chopped onions, and a little salt.
2. Saute till the onions turn golden brown. You can choose to stop when they are light golden brown. Or continue till they are a deep golden brown.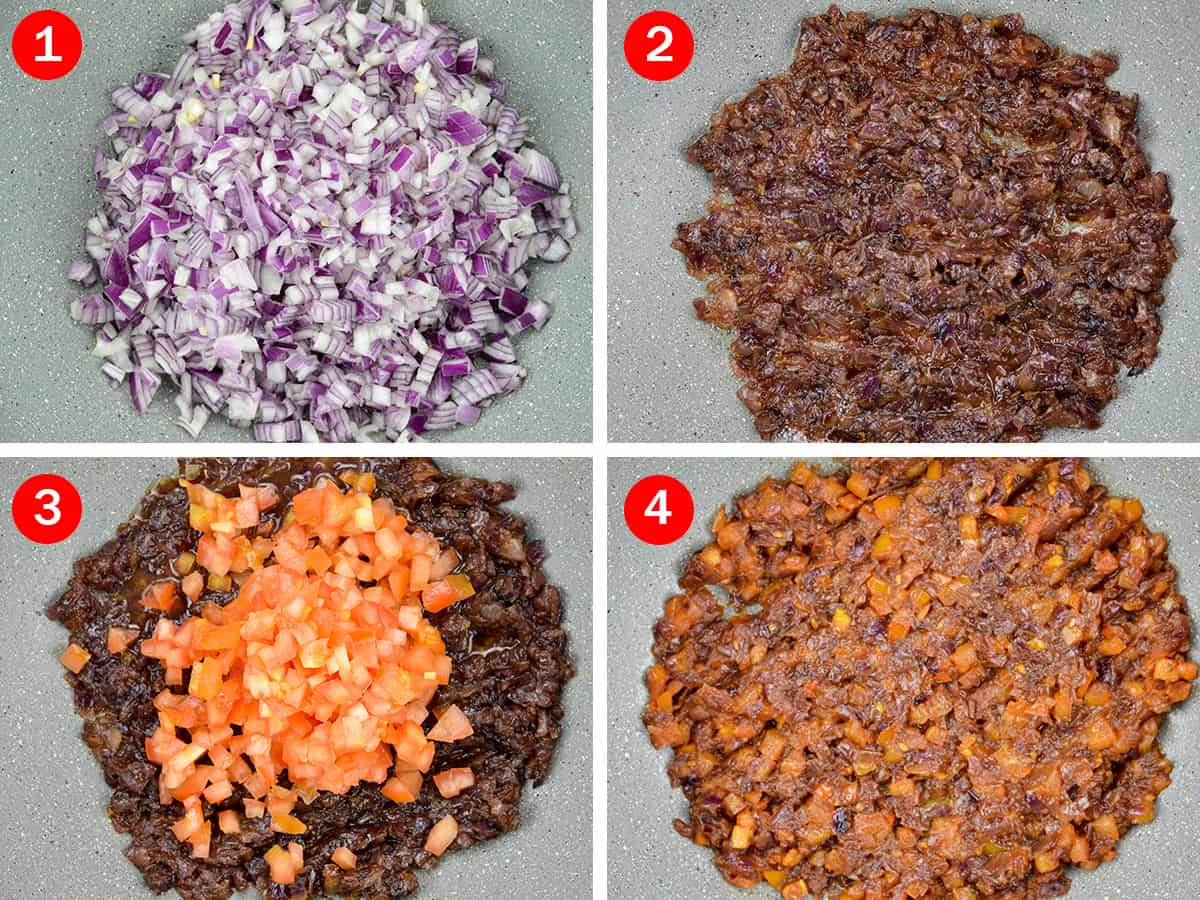 3. Then add in the chopped tomatoes, and saute till the tomatoes are cooked down a bit, and turn all soft and mushy.
4. Once the tomatoes are done, turn off the gas, and let the roast cool down to room temperature before storing it or freezing it.
Notes:
1. The quantity of onions vs tomatoes depends on your personal preference. I usually prefer an onion tomato ratio of approximately 1:1/3. So for every 2 cups of chopped onions, I use 3/4 cup of chopped tomatoes. You can use equal quantities of onions and tomatoes. It depends on the taste you prefer.

2. You can also choose to roast ginger and garlic, along with the onions and tomatoes. And also add Indian spices. If you choose to add ginger & garlic, roast them before the onions. And if you want to add Indian spice powders, add them after the onions are roasted. Measurements are shared in the recipe card below.
3. If you want your curries to have some texture, you can choose to store the onion tomato masala as is. Or if you want a smoother curry sauce, then it's best to grind and store this in paste form. Alternatively, you can use a hand blender to get a semi coarse paste.

Pro Tips
1. Use a wide bottomed pan to roast onions and tomatoes faster.
2. Use an onion / vegetable chopper like this one to chop onions and tomatoes within minutes.
Storing the Masala Base
This masala base stores very well in the fridge for a week. But if you make a big batch and need it to last more than that, it's best to freeze it.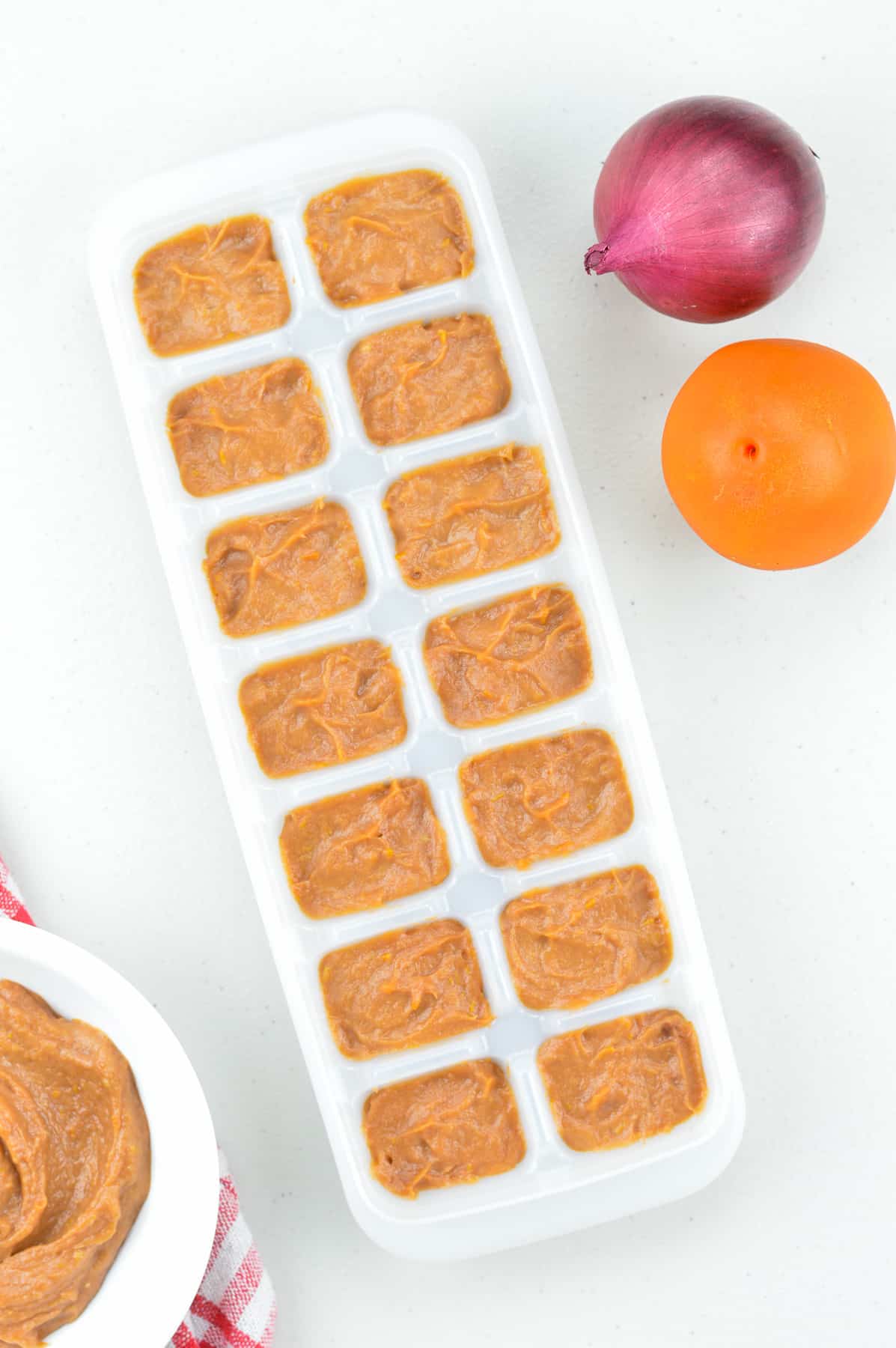 How to Freeze Onion Tomato Masala
The best way to freeze this masala is by portioning it out in small cubes. Because then you can remove / thaw only as much as you need.
1. Portion out the masala into small portions, preferably use an ice cube tray.
2. Place the tray in the freezer, and wait for the masala cubes to freeze solid.
3. Once the masala cubes have frozen solid, then transfer them into a freezer safe zip-lock bag.
4. Seal the zip-lock bag after removing all the air out, and store it in the freezer.

I usually also label the bag with the name of the contents and the date it was frozen & stored.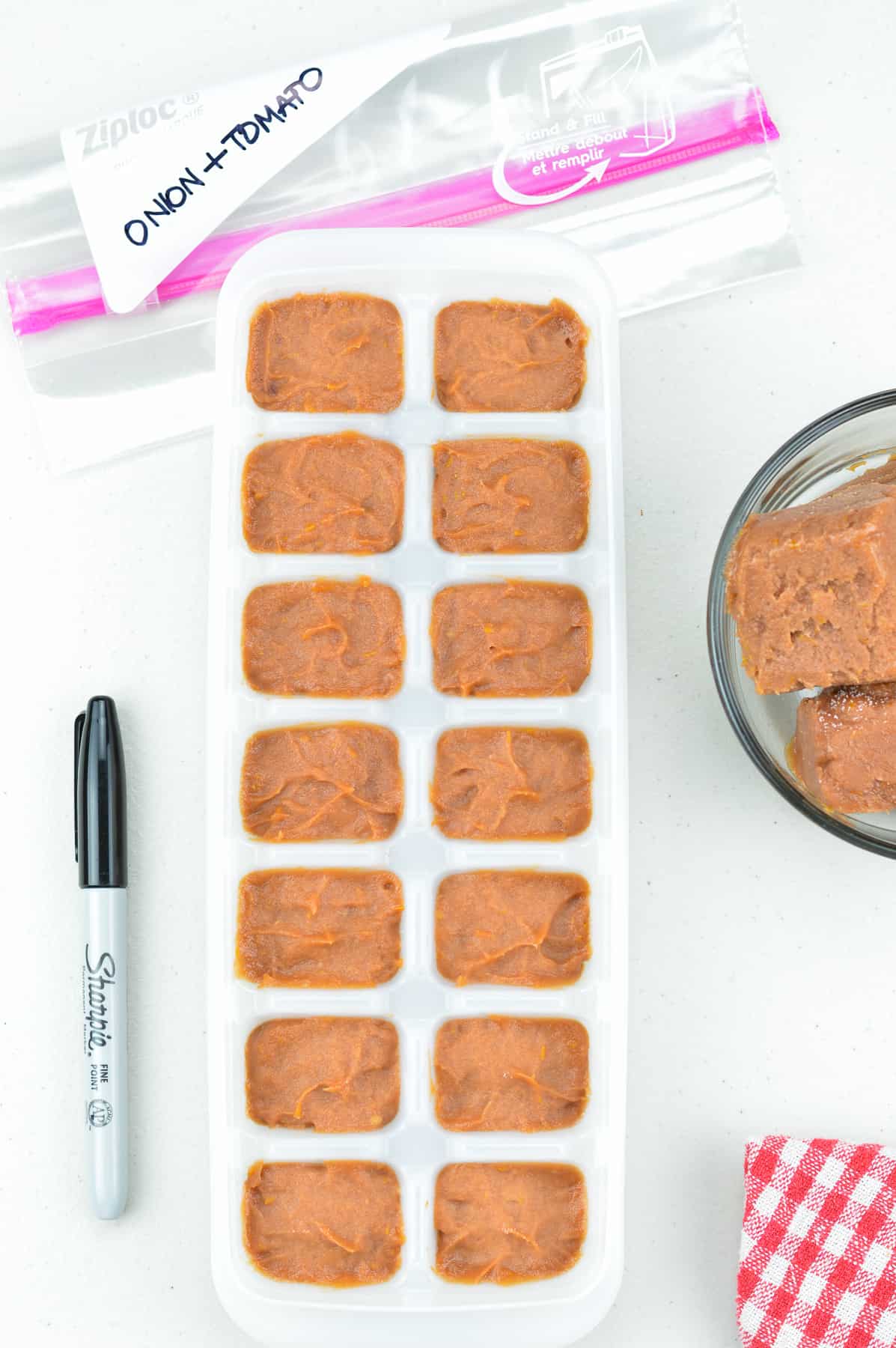 Thawing the Masala Base
I store this masala base two ways – one way is by freezing it in ice cube trays, and storing the masala cubes in a zip-lock bag. In this case, I remove the number of masala cubes I need, and directly warm it on the stove, while making the curry.

The other way I store this masala base is in these pyrex glass containers. I just fill these glass containers and freeze them. In this case, I usually thaw out the masala by transfering the container from the freezer to the fridge, a couple of days before I need it.
Note: If you thaw out a bigger amount of masala base than you need at one go, you need to use it within a week. Because you should NOT re-freeze it.
How to Use this Onion Tomato Masala Base
Thaw the amount of paste you need. This can be done by directly warming the frozen masala cubes or refrigerated masala on the stove top.
Then add ginger garlic paste (if required) and the spices of your choice.
Finally – add the main ingredient of the curry, and a little water (if required), and cook like you normally would. 🙂
Recipes Using Onion Tomato Masala
You can make an endless variety of dishes using onion tomato masala as the base. Here are a few examples.
Chole Masala
Chicken Curry
Shrimp Curry
Egg Curry
Indian Shakshuka
---
---
Popular Indian Recipes on the blog:

1. Mangalorean Shrimp Curry
2. Kolhapuri Misal Pav
3. Whole Chicken Tandoori
4. 5 Minute Mango Lassi
As always, I hope you found this recipe useful. If you did, please let me know your rating ⭐️ and feedback 📲 in the comments below, or simply rate the recipe right on the recipe card. I'd really appreciate it. ❤️ 
📖 RECIPE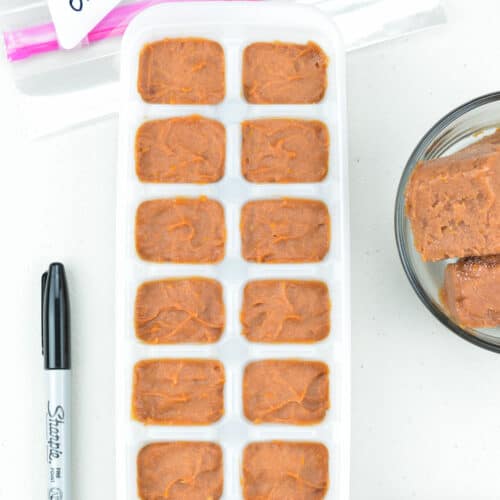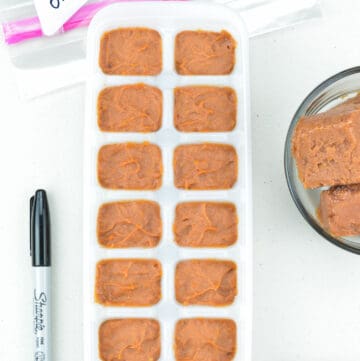 Indian Onion Tomato Masala Base
steps to make and freeze indian onion tomato masala
Print
Pin
Rate
Ingredients
3

tablespoon

oil

4

cups

chopped onion

1.5

cups

chopped tomatoes

2

teaspoon

salt
Instructions
Heat up a little oil, and add chopped onions and salt.

Mix well, and saute on medium high heat till the onions turn light (or deeper) golden brown. This might take 10-20 minutes, depending on the pan you are using. Use a wide bottomed pan for browning onions faster.

When the onions are browned, add in the chopped tomatoes, and roast for 5-10 minutes till they get cooked, and turn softy and mushy.

That's it. That's the base recipe for making onion tomato masala. However, you can make modifications and adjustments to this base recipe, as shared below.
Optional Additions
Ginger & Garlic – If you choose to add ginger & garlic, then roast them first in oil, before adding onions. For 4 cups of chopped onion, use 2 tablespoon of chopped ginger and 2 tablespoon of chopped garlic.

Indian Spices – If you choose to add basic Indian spice powders to this, then add them after you've roasted the onions, and before the tomatoes. You can add a few spoons of water to ensure the masalas don't burn. For 4 cups of chopped onion, use 2 teaspoon garam masala powder, 2 teaspoon coriander powder, 1-2 teaspoon chilli powder, and 1 teaspoon cumin powder.
Notes
Important Notes:
Adjust the ratio of onion vs tomato based on your preferences, and the amount of sourness you want in your curry base. I always use a little less than half quantity of tomatoes to onion. You can do 1:1. Or even use a little more tomatoes than onions. Based on your preference and the sourness of tomatoes.
You can either store this masala base as is, or grind it into a fine paste before storing it, based on whether you prefer texture in your curries or a smoother curry base.
If you want to make a dump & go style of Instant Indian Curry, check out this recipe for Bhuna Masala – it's the perfect base for quick Indian curries.
Pro Tips:
Choose a flat, wide bottomed pan to speed up the roasting of the onions and tomatoes.
Adding salt while sauteing onions speeds up the process of browning onions.
Double (or triple) this recipe, and multitask while roasting onions & tomatoes to meal prep like a boss! 😀
Storing & Freezing Tips:
This onion tomato masala base stores well for 7-10 days in the refrigerator. Store in an air-tight glass container.
Bigger batches can be frozen in glass storage containers or ice cube trays. If you're using ice cube trays, then ensure to transfer the frozen masala cubes, into a zip-lock bag. And remove all the excess air out of the zip-lock bag, before sealing it, and storing it in the freezer.
Thawing & Using Tips:
If you have frozen this masala in cubes, just take out as many cubes as you need, and directly warm them on the stove-top.
If you have frozen this masala in a bigger glass storage container, you can either thaw out the container in the refrigerator or the kitchen counter-top.
If you have thawed out more masala base than you need, you can refrigerate the rest, and use up within a week. Do not refreeze thawed masala base.
---
Please note: The nutrition values are best estimates provided as a courtesy. The exact values can vary depending on the exact ingredients or brands used. If you rely on them for your specific diet and/or health issues, please consult a registered dietician or nutritionist.
Nutrition
Calories:
678
kcal
|
Carbohydrates:
74
g
|
Protein:
10
g
|
Fat:
42
g
|
Saturated Fat:
20
g
|
Sodium:
5191
mg
|
Potassium:
1611
mg
|
Fiber:
14
g
|
Sugar:
36
g
|
Vitamin A:
421
IU
|
Vitamin C:
81
mg
|
Calcium:
259
mg
|
Iron:
5
mg
If you'd like FREE recipes and meal prep ideas delivered directly to your email inbox every Friday in one short email, then subscribe to the Foodie Friday list HERE, and never run out of ideas on what to cook over the weekend or prep for the week ahead. 🙂
How to Make Indian Onion Tomato Masala Base + Freezing Tips