If you bought or are looking to buy Mealthy Multipot electric pressure cooker, then this Mealthy Multipot Review post is for you.

Because in this post I've shared my detailed thoughts on the Mealthy Multipot 2.0, covering everything from it's parts and functionality, to how it is different from the Instant Pot, and if you should invest in this Multipot.
Disclaimer: I received a Mealthy Multipot from the company, in exchange for an honest review. The opinions, as always, are completely mine.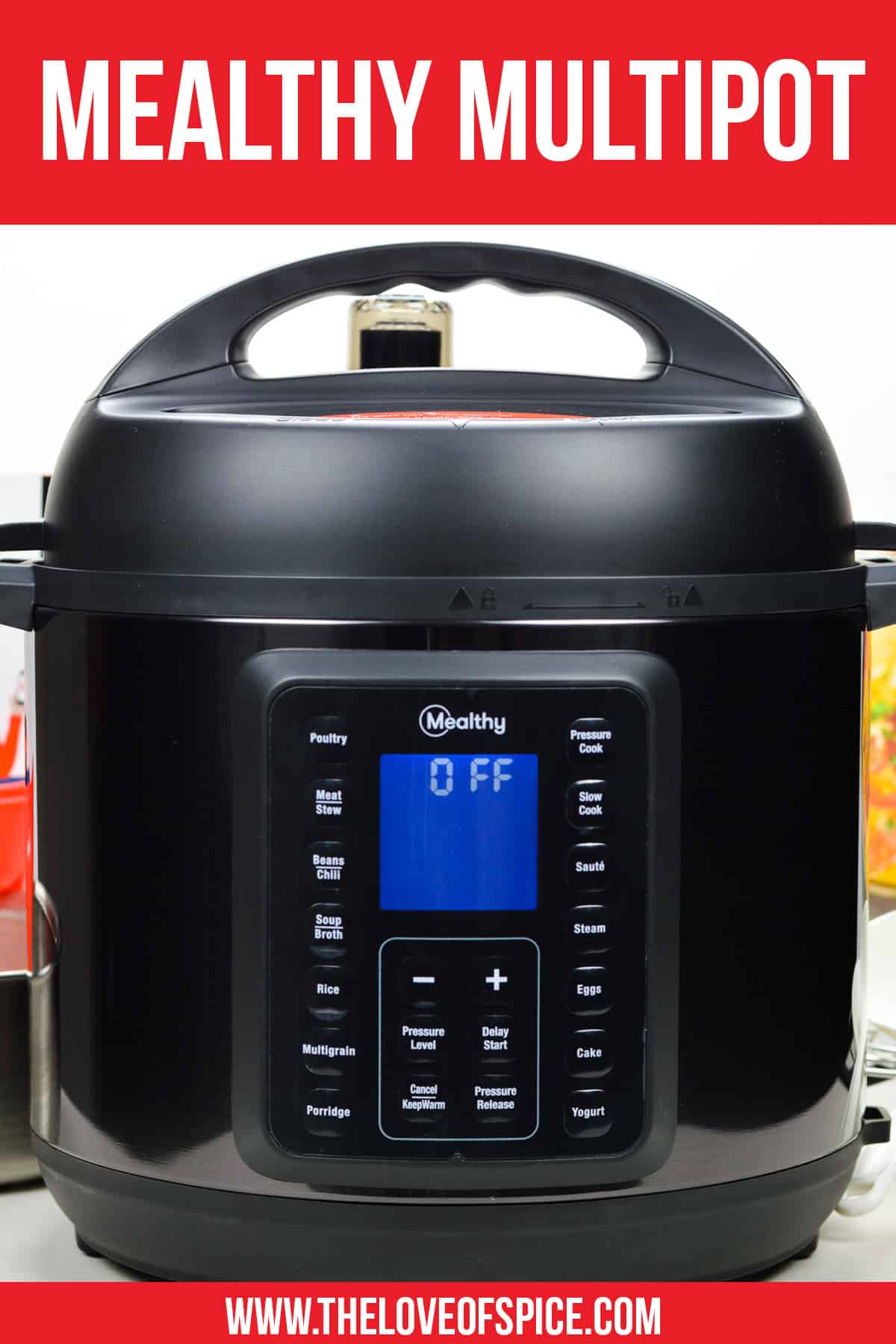 About Mealthy
Mealthy is a US based kitchen appliance company that manufactures several high quality products with sought after features that make everyday cooking quick, easy and even enjoyable.

In this post, I will be sharing my thoughts on the Mealthy Multipot 2.0, but I'll also be sharing about some of the other mealthy products in upcoming posts.
What is the Mealthy Multipot?
Mealthy Multipot 2.0 is a 9-in-1 6 quart electric pressure cooker that is more than just a pressure cooker. As it comes equipped to handle varied cooking needs of sauteing, steaming, baking, warming, and even pasteurizing and culturing yogurt. Along with the ability to replace some other kitchen appliances like the slow cooker, rice cooker, and food warmer, as it comes with the settings to slow cook, cook rice, and warm food.
Understanding Mealthy Multipot Parts
If you have never had / used an electric pressure cooker before, then it's definitely an adjustment to familiarize yourself with the parts and the functioning of one. But trust me, it's a fairly simple learning curve.

However if you have already used an electric pressure cooker like the Instant Pot, then you already know most of what you need to know for using this multipot. Because it has similar parts and components, with a little added functionality, which I'll get into a little later in the post.
Here is what the multipot base unit consists of:
1. Black Exterior Pot – This is the main outer pot and heating unit (#1), in which the steel inner pot is placed to cook food.
2. Steel Inner Pot – This is the steel pot (#2) that is placed in the exterior pot and it's the main cook pot in which the food is cooked.
3. Multipot Lid – In the picture below I have shown both sides of the lid, to show the white gasket (which helps seal the multipot) and the anti block shield (which prevents clogging of the pressure release valve) in the inner side of the lid (#3), and the steam vent (which helps vent / release the pressure in the pot), and the red float (which indicates whether the pot is pressurized or not) on the outer side (#4).
4. Display Panel – This is not a different part or a component, as it is part of the main exterior pot. I'm just sharing it here, as it is the main control panel (#5) that you need to familiarize yourself with.
5. Condensation Collector – Before you start using your multipot, you need to attach the condensation collector (#6) to the back of the exterior unit, by aligning it to the guides at the rear of the multipot and pressing it in.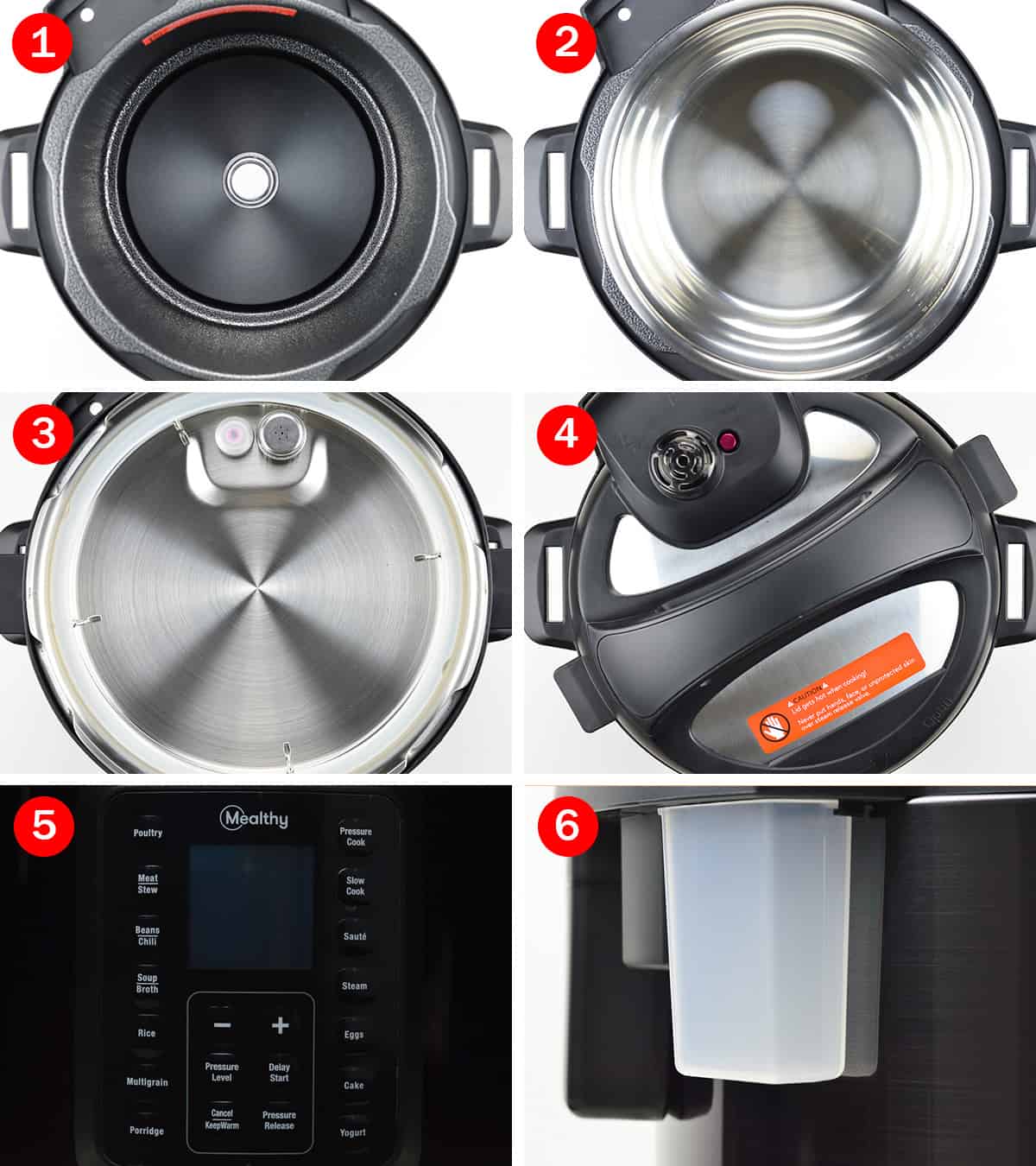 The one thing I left out in the photos above is the power cord (though you'll see it in the photo of the accessories below). It's a detachable power cord that attaches to the base of the multipot.
Mealthy Multipot Accessories
Mealthy Multipot also comes with several accessories right at the get-go, which is super convenient and helpful, outside of the fact that it makes this multipot more value for money compared to the Instant Pot.
Here is what came in the box, along with the multipot:
Steel Rack / Trivet
Spare Gasket
Steamer Basket
Rice Padle / Soup Ladle
Measuring Cup
Oven Mitts (2)
Recipe Book & User Guide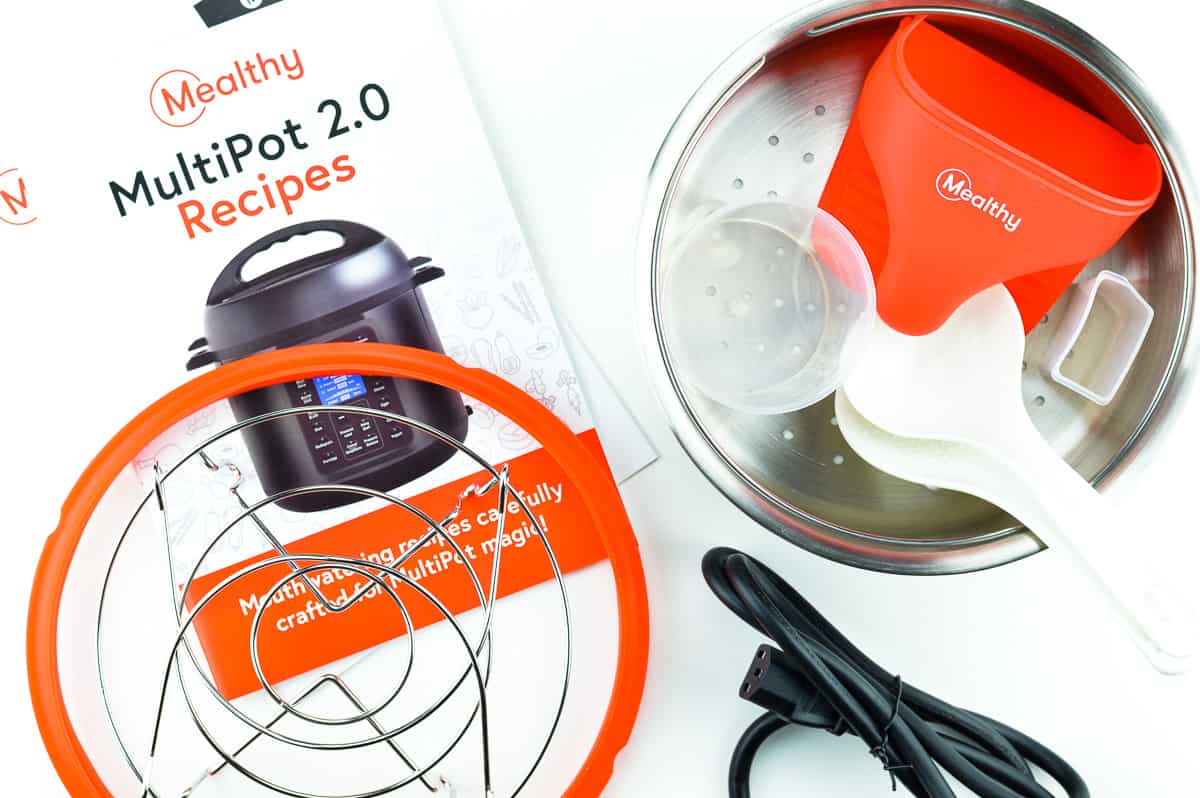 In the photo above, you'll also see the detachable power cord I mentioned earlier, and the condensation collector that gets attached to the base unit.
Video Overview of Mealthy Multipot Parts & Accessories
I have created a video that shows all the mealthy multipot parts and accessories that came in the box. Hope you'll find it useful.
Important Side Note 🙂
This Mealthy video is the first video I posted on my brand new YouTube channel. So I'd love any feedback on what you thought about it.
Also if you did like the video, please do consider subscribing to the YouTube channel here. I have lots of mealthy multipot (and other) recipes lined up, that will be going live on there really soon. 🙂
Mealthy Multipot Key Features I Love
9-in-1 functionality that has the ability to replace multiple kitchen appliances. Which means less things that will clutter our kitchen (and our lives)!
The ability to cook 2 dishes, like rice and dal, at the same time, using the pot in pot method. Which means less dishes to clean. And how can anyone not love that?
The updated Mealthy Multipot 2.0 comes with an automatic self sealing lid. Which means no need to worry if we remembered to turn the valve to sealing or not. The lid automatically seals itself.
The newer Mealthy Multipot also comes with the hands-free pressure release option. And I got to admit that this is my favorite feature of them all. Because I have 2 Instant Pots, and neither of them have the ability to do hands free pressure release.
And last, but not the least – hassle free perfection – every single time!
How to Use the Mealthy Pressure Cooker?
Here again, if you have already used an electric pressure cooker like the Instant Pot, then you'll find that operating a Mealthy Multipot is very similar.

But for those who have never used an electric pressure cooker before, I'll share a few highlights on how to use this Mealthy Multipot pressure cooker.
Whenever you want to use the multipot, first ensure to plug in the power cord, and check that there are no obstructions underneath the stainless steel pot before placing the stainless steel pot in the main exterior unit of the multipot.
No matter what you are pressure cooking, always ensure to have atleast one cup of liquid in the steel inner pot, and check that the gasket is firmly attached for the lid to seal well.
When the multipot is well sealed, and comes to pressure (based on the program you choose), the red float valve will go up, indicating the pot is pressurized. It will only come down after all the pressure is released from the pot (again based on the pressure release program you choose). It's only safe to open the multipot when the red float valve is back down to its original position.
Understanding the mutipot display panel:
Mealthy Multipot comes programmed with several preset cooking functions for varying ingredients, foods, and preparation methods like – Poultry, Meat, Beans, Soup, Rice, Multigrain, Porridge, Yogurt, Cake & Eggs. You can see the buttons for these preset cooking programs on the left hand side and the bottom right side of the display panel.
It also comes equipped to work as pressure cooker, slow cooker, or a saute pot, and you can see the buttons for these modes right on the top right side of the display panel.
In the center of the panel you'll see the buttons to set the pressure level (low to high), select pressure release style (natural, quick, auto), set cook time (using +/- buttons), and you'll also find the option to delay start the cooking process.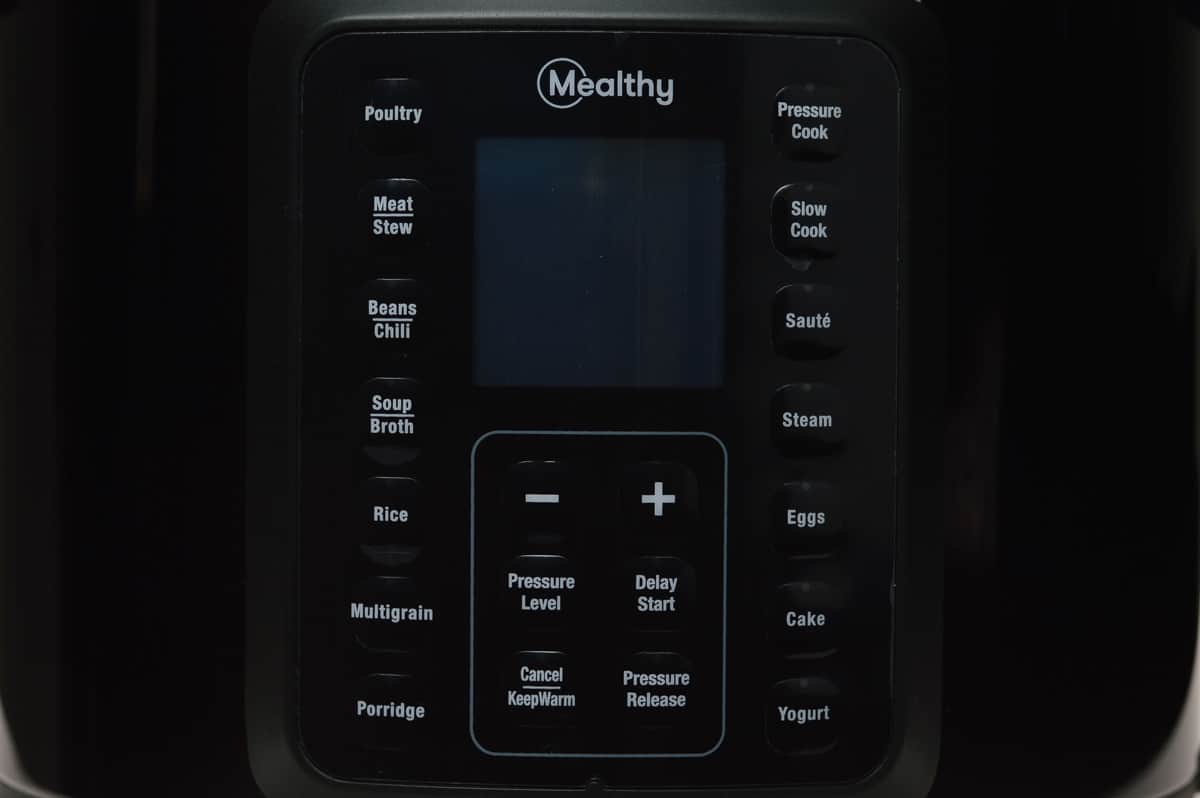 Most other things are self explanatory, but I want to elaborate on the pressure release styles.

Natural pressure release can take anywhere from 5-30 minutes, and is ideal for foods that will toughen if using a quick release.

Quick pressure release can take anywhere from a few seconds to 2 minutes, where steam releases and stops in alternating intervals, and is ideal for foods that need to stop cooking right away.

Auto pressure release can take anywhere from a few seconds to 3 minutes, where steam is released at regular programmed intervals, and is ideal for foods that foam.

You can also choose to do manual pressure release. Just hit cancel, and hit the pressure release button once to release a short burst of steam, or hold the button for 3 seconds to have steam release continuously.
No matter which method you choose to release pressure, always wait till the pot is depressurized (indicated by the red float coming down to its original position) before opening the lid of the multipot.
The Mealthy Multipot App
Once you have your multipot, you can also download the absolutely FREE Mealthy Multipot App on your phone. Which you can connect to via your email or even Facebook account, or simply proceed as a guest.
Though if you create / connect an account, then that will unlock handy recipes and meal plans for you.
It also gives you several other options to customize your experience, asking you about which Mealthy product (s) you own, and if you would prefer only vegetarian recipes. So definitely check it out!
Mealthy Multipot Recipes
I will soon be sharing LOTS of mealthy recipes here on the blog. But until then, you can always adapt Instant Pot recipes and try them in your Mealthy Multipot. Start with any of these shared below.

Instant Pot Sona Masoori Rice
Instant Pot Brown Rice
Hard Boiled Eggs in Instant Pot
Bhuna Masala in Instant Pot
Mealthy Multipot Vs Instant Pot
If you are familiar with the Instant Pot, you will notice a lot of similarities between the two.
For starters, Instant Pot and Mealthy Multipot are both robust electric pressure cookers in their own right, with similar functionality, and safety ratings.

And both have the ability to replace multiple cooking gadgets in the kitchen, and not just pressure cookers.

However there are some differences too.
For instance, some Instant Pot models have a better finish and more preset programs as compared to the multipot. Which might matter to you more if you actually use the preset functions a lot (I don't).

Mealthy Multipot on the other hand is more value for money, as it provides more accessories right at the get go, in addition to some really dynamic pressure cooking functions, and the option for hands-free quick pressure release. Actually it was the last thing, the option to preset quick pressure release that first made me check Mealthy out.
Should You Invest in the Mealthy Multipot?
If you are looking to buy an electric pressure cooker and are considering Instant Pot, I would definitely recommend you to also check out Mealthy Multipot.

Not to say one is better than the other. Because I do own an Instant Pot, and really love it too.
But since Mealthy is more than a worthy competitor to Instant Pot, (especially with dynamic pressure cooking options + the option to preset quick pressure release totally handsfree) and is more value for money, (considering what accessories are already included in the price you pay), you must definitely explore it before you making your buying decision.

If like me you already own an Instant Pot, and are looking to add another electric pressure cooker to your arsenal, then too make sure to check out the Mealthy Multipot before you decide to just buy another Instant Pot.
Check out the Mealthy Multipot 2.0 on Mealthy.com.
Mealthy Multipot is available in India too!
Good news for folks in India! Unlike the Instant Pot, that is not currently available in India, the Mealthy Multipot is available in India. So check it out if you live in India.

And even if you live in US (or anywhere outside India), but have been wondering to gift something like the Instant Pot to your friends and family in India, gift them the Mealthy Multipot. It makes for an especially perfect wedding gift or even an housewarming gift.
Check out the Mealthy Multipot 2.0 in INDIA!
Hope this post has been helpful to you in giving you a clear overview of the Mealthy Multipot Pressure Cooker, and clarified the similarities and differences between Instant Pot and Mealthy Multipot.

I also hope it has given you clarity to make an informed buying decision.

If you have any more questions, feel free to drop me a comment, and I'll get back to you.
READ NEXT: How to Do The Mealthy Multipot Water Test